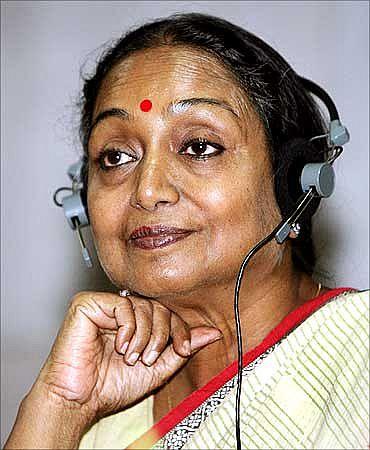 The 'mock Parliament' initiated by Rashtriya Janata Dal chief Lalu Prasad Yadav, Samajwadi Party supremo Mulayam Singh Yadav and Janata Dal-United leader Sharad Yadav on the MP's salary hike issue last week has turned out to be a major irritation for Lok Sabha Speaker Meira Kumar, who is reportedly contemplating stepping down.
An unhappy Kumar wants to condemn the three Yadavs for misusing the Lok Sabha premises for conducting a 'drama', in the glare of the entire press gallery and some MPs.

Meanwhile, Lalu Prasad is planning to say 'sorry' on Wednesday, when the House resumes session after three days.

Lok Sabha Speaker Meira Kumar is quite upset with the troika of Yadavs
for their regular defiance of her authority and not allowing her to conduct the business unless she yields to them to have the say.

She has convened a meeting of leaders of all political parties on Wednesday morning before resumption of the session after a three-day break, urging Prime Minister Dr Manmohan Singh and Congress chief Sonia Gandhi to personally attend it, as she wants to find out a consensual solution to upturn the falling decorum of the House.
The meeting is convened at 9.30 am to have enough time of 90 minutes to discuss the issues, which has given her a lot of pain and anguish, sources in said.

They went on to say that she may even offer to step down as the Speaker if the parties do not lend her support in putting the Yadavs in their place.
They said she would also broach at the meeting the 'unparliamentary conduct' of the MPs on Friday when they conducted a 'mock Parliament' in the Lok Sabha hall after the House was adjourned for the day.

With the help of the staff, she has drawn up the list of some 60 MPs who participated in the so-called 'mock session' with Lalu Prasad as the 'prime minister.'
She will put their names before the meeting and urge leaders of the parties to decide what exemplary punishment should be imparted to prevent recurrence of such drama. bringing shame to the temple of democracy.

Meira Kumar is understood to have also conveyed to leader of the House and Finance Minister Pranab Mukherjee her unhappiness over no condemnation of the incident, and instead resorting to placate the Yadav trio to allow the House conduct its business smoothly on Saturday.
She felt the government should accommodate the Opposition for running the House without disruption, but it should not be done by shutting eyes to the members resorting to unparliamentary behaviour.
Image: Lok Sabha Speaker Meira Kumar