Political circles in New Delhi were abuzz on Monday with the speculation that the DMK Parliamentary Party meeting in Chennai on Tuesday would signal the end of its love affair with the UPA.
A Ganesh Nadar reports from Chennai on what transpired.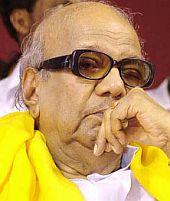 Dravida Munnetra Kazhagam chief and Tamil Nadu Chief Minister M Karunanidhi has asked the Centre to assess the progress of rehabilitation measures undertaken by the Sri Lankan government for internally displaced Tamils in the island nation.

Talking to the media after a 90-minute meeting with Members of Parliament from his party in Chennai on Tuesday, he said, "I have spoken to the central government with regard to Sri Lankan Tamils. We have asked them to see the situation there and verify if the Sri Lankan government is doing what it had promised to do for the Tamils there. We have been informed that a special envoy will be sent soon."

Foreign Secretary Nirupama Rao met Karunanidhi in Chennai last week and briefed him about the government's plans for the Tamils in Sri Lanka.
The chief minister parried queries from the media on whether a DMK lawmaker would accompany the envoy.

Of late, the DMK is said to be not been comfortable with the Congress party which heads the United Progressive Alliance at the Centre. The DMK has the largest number of Lok Sabha MPs after the Congress in the UPA.
Senior DMK leaders suspect Congress leaders are playing a double game as the Tamil Nadu assembly election draws near, inching closer to its despised adversary, the All India Anna DMK.
Karunanidhi's government in Tamil Nadu is propped up by Congress support. The DMK has, however, consistently refused to let the Congress party in Tamil Nadu be part of the ruling regime.
On Tuesday, Karunanidhi sought to put to rest speculation about trouble between the Congress and DMK.

"There is no issue between the two parties," the 87-year-old politician said. "DMK-Congress relations and the alliance are strong."

Rejecting AIADMK chief J Jayalalithaa's claim that her party is riding a wave of popular support ahead of next year's assembly election, Karunanidhi, the master of the political put down, said, "You will know that when the results are announced."