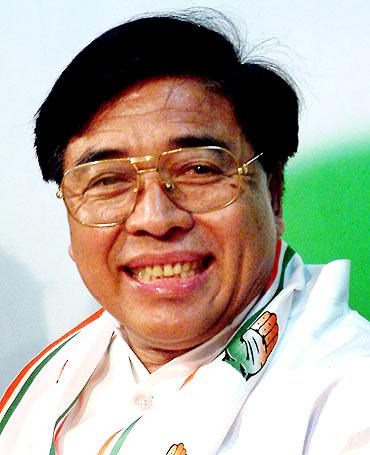 The special investigation cell of the Arunachal Pradesh police on Tuesday arrested former state chief minister and senior Congress leader Gegong Apang from Itanagar in connection with Rs 1,000 crore Public Distribution System scam.
The scam allegedly happened before 2004 when Apang was the chief minister, after the central government introduced the system of providing hill transport subsidy for carrying PDS items to remote parts of Arunachal Pradesh from the Food Corporation of India godowns in Assam.
The arrested former chief minister was produced before the court of district and sessions judge in Lakhimpur in Assam and the court remanded him to seven days police custody.
While being taken to the court, Apang shouted that, "It is a political conspiracy to malign my image. I am not involved in the scam. The truth will come to the fore if the Central Bureau of Investigation is allowed to investigate the case."
The SIC was formed at the instruction of the Guwahati high court after it had taken up a public interest litigation filed by activist Bamang Tago who alleged massive pilferage of public money in the name of payment of hill transport subsidy.
The PIL alleged that HTS and road transport charges payments were made on the basis of fake bills submitted through the FCI by the Arunachal Pradesh government while PDS items were actually never lifted from FCI godowns for distribution among the people.
The high court has been monitoring the investigation on regular basis.
Apang was chief minister of Arunachal Pradesh for 19 years heading successive Congress government from January 18, 1980 to January 19, 1999 when he quit after losing a no-confidence motion. He then floated the Arunachal Congress and came back to power to form a coalition government with the Bharatiya Janata Party in 2003.
In 2004 when the BJP-led National Democratic Alliance government lost power at the Centre, Apang returned to the and continued as chief minister of a Congress government from October 2004 to April 9, 2007.
Image: Gegong Apang