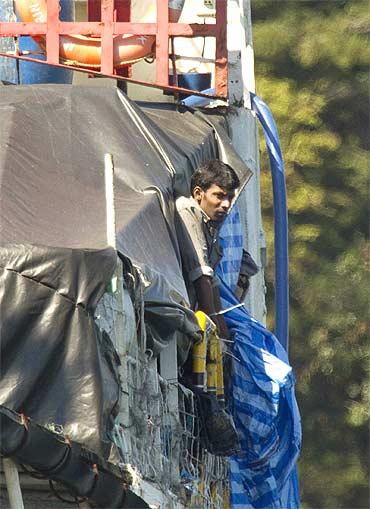 Now that the Canadian Immigration Refugee Board adjudicators have opened to the media hearings for the detention of the 492 Sri Lankan Tamils, who arrived in the Canadian waters on August 9 on board MV Sun Sea, a number of stories are coming out as to who these people are, more so of women and children, who are being kept in separate correctional facilities.
There are 49 minors in the group -- 43 of them are with their mothers -- and they are not categorised as 'detained' by the Canadian authorities.
All of them were reportedly processed by the Canada Border Services Agency and then taken to correctional facilities near Vancouver. Refugee Board hearings began on August 16. There's, of course, a publication ban to using names of these people, or their other identities or details of the actual hearings.
These migrants have released two letters to the media: 'We are civilians please save us,' says one letter that's addressed to the Canadian government, Canadian people, Canadian media and the Canadian Tamil Congress, that in fact is helping these people in terms of legal assistance that they require, identifying their relatives in Canada, and any other help that they need.
The letter stated that 'you did not hesitate to take us ashore and provide us with food, water, fruits, etc. This has assured us with the safety of our lives. The Sri Lankan government says that the ethnic conflict in Sri Lanka has come to an end. However, neither the Prevention of Terrorism Act (which allows for arbitrary arrest of civilians) nor the Emergency Regulations Act have been abolished."
"Innocent Tamil people detained in prisons have not been released. Displaced civilians have not been resettled in their own homes. Instead, there's widespread occurrences of disappearances, mass murders and extortion," the letter noted.
The letter also accused the Sri Lankan government for 'conducting false propaganda internationally for its personal gains.'
"Have faith in us," these migrants asked the Canadians and the Canadian government. "We are not terrorists," they said and claimed they were 'innocent civilians who have been affected by the conflict.'
In another letter, also released to the National Post, the migrants claimed they have 'undergone severe hardships with very little or no access to basic necessities such as food, water, sleeping space, medicine and sanitary facilities' on board the MV Sun Sea.
"We have traveled for almost 4 months with much suffering and pain,' said the unsigned letter. "We have come here to this wonderful country Canada, to protect ourselves and our family members from the murder, disappearances and violence that still exist in our native country."
Noting that Canada 'has embraced immigrants,' these 492 Sri Lankan Tamil migrants believe that the Canadians 'will accept us (as refugees)' and they have vowed 'to wholeheartedly abide by the law and order of this country.'
Reports stated a third of these 492 people may have their family members in Canada.
Image: A man looks out from the MV Sun Sea after he and an estimated 490 suspected Tamil refugees arrived on the cargo ship in Canada
Photograph: Andy Clark/Reuters