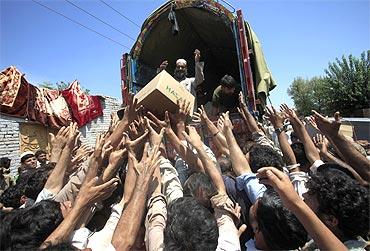 Pakistan President Asif Ali Zardari finally visited the flood-hit areas in the southern province of Sindh on Thursday, two weeks after the country was hit by its worst humanitarian crisis in 80 years.
Zardari visited the city of Sukkur located on the banks of the Indus River to take stock of the rescue and relief efforts, according to a report in the Globe and Mail.
"He is going for a briefing on the damage and on protection measures and relief and rehabilitation measures," the paper quoted presidential spokesman Farhatullah Babar as saying.
Zardari's decision to undertake a trip to France and Britain earlier, despite the country reeling under the worst floods in its history, has created an image of an indifferent and arrogant leadership, critics have said.
Already unpopular, Zardari faced protests even during his trip to the United Kingdom, when an unidentified middle-aged man reportedly hurled his pair of shoes one after another at him during a party rally in Birmingham.
Critics now believe that the President would never be able to recuperate or revamp his image in the country.
"The image of President Zardari visiting his chateau in France, while there was devastating flooding in Pakistan: this will have long-term effects," said a Pakistan Muslim League - Nawaz leader.
Over 1.4 crore people have been affected by the floods, which have exposed thousands of people to diseases and swept away entire villages.
Image: Flood victims collect relief supplies from the army | Photograph: Faisal Mahmood/Reuters