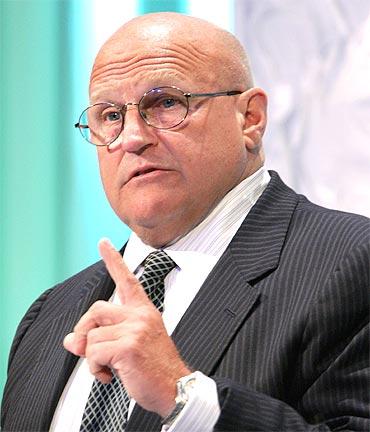 Former United States deputy secretary of state Richard Armitage discussed President Barack Obama's 'failure to define the goal in Afghanistan,' and a host of other issues with eminent American interviewer Charlie Rose. The interview was telecast on PBS on Monday. Excerpts from what Armitage told Rose:
'Obama's Afghan policy may be too little, too late'
I think the president has not seriously defined the goal in Afghanistan: What sort of Afghanistan will he accept? That's number one. I think there is a policy for the first time after eight years, eight-and-a-half years, of applying military force, development assistance, and political pressure. It may be too little, too late.
What we need to do is decide what sort of Afghanistan we will accept. If you ask this citizen, I would accept a contained Afghanistan which would have many fewer US troops, a lot of use of technology to detect insurgent groups, where I can find them. I would have a contained Afghanistan. It wouldn't be nation-building.

'Obama should be a little more open towards ties with foreign leaders'
I think Mr Obama, I personally would wish that he'd have a little bit more buy-in with some of the relationships around the world. My view of our president is that he's a wonderful family man; he's got a lot of emotion and a lot of love for his family. I don't think that extends to his business relationships.  
I'm not saying that he has to be in love with his colleagues, but I think he has to be interested in them as people, you know, if only because it's in our self-interest to try to draw them out a little bit.  
So if I had a criticism of our president, it would be that I wish he'd be a little more open in relationships than I've seen from the outside.
'Sanctions are starting to take a major effect in Iran'
I think in some areas, the president has done masterfully; for instance, the sanctions on Iran. He's gotten, I think, four successive sets of sanctions, and he's gotten pretty good international buy-in, which eluded George Bush to some extent. But beyond that, I think this is very much a work in progress.

The fact that the president the other day reiterated his call for dialogue with Iran is indicative of the fact that the administration believes sanctions are biting. Sanctions are starting to take a major effect in Iran.

Containment historically hasn't worked. North Korea was contained; they developed a nuclear weapon. Pakistan was contained and they developed a nuclear weapon. So I think that if you're talking about stopping a nuclear programme, containment won't work (even in Iran).
'Turkey feels that may be the West won't be successful'
Why does Turkish Prime Minister Recep Tayyip Erdoðan and why do his colleagues want to have this relationship with Iran? I believe it is because they feel somewhere in their hearts that maybe the West won't be successful.
And if Iran is going to be a nuclear power, which I hope will not be the case, they want to have some influence there. Second, I think it is clear, as US Defence Secretary Robert Gates has said, that Europe has rebuffed constant US and Turkey attempts to get in the European Union, and all that Turkey holds as a long term goal, accession to the EU, that is, still looks west, it also wants to go back to some historical views they used to have which was looking southeast.
'You should talk to your enemies'
I understand Israel's objections of the US talking to Hamas. I also understand that Hamas, much to the surprise of the Bush administration, was elected. So some way has got to be found of squaring the circle. I myself always believe you should talk to your enemies, if only as an intelligence gathering mechanism.
'There is a competition in Asia'
One of the most difficult things I think is to get right the US's relationship with China. The reason I say that is there's a competition in Asia, a competition right beneath the surface is as follows: is their economic model or ours, a better model for future development, and is their political model, an authoritarian model, better than our democratic one? That's the competition.
We've got to, I think, come out right on this.
'South Asia means a little bit more than Europe'
Although we're still and will remain the strongest power economically, militarily, etc for well over 20 years into the future, there's been a relative decline.  
Also there's been a relative rise in China, which has brought forth a real competition in Asia for influence and for economic growth. Finally, in the other part of the globe, we had a real change in Russian relationships recently, where they're actually out courting old enemies, such as the Turks.
So, I think you're seeing a fundamental reordering. I don't like the term new world order either, but the fundamental reordering of the traditional relationships. Europe means a little less than it did in the past. South Asia is a little bit more, given the rise of India and the difficulties of Pakistan. The US is in a state of flux.

I give very high marks to Obama's policy in Asia.  I think they've gotten the North Korean policy correct. I think both the secretary of state and the secretary of defence have spent a lot of quality time in Asia, trying to prove that we are going to a part of the Asian century.  
I think, however, in the main that this is a sort of kinder, gentler George W Bush policy that we're seeing, without major departures from the previous administration.
Image: Former United States deputy secretary of state Richard Armitage  Photograph: Reuters