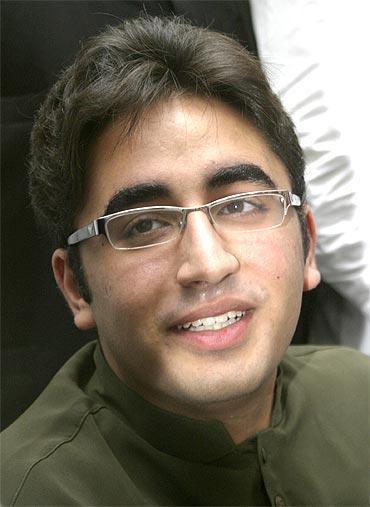 Chairman of the Pakistan Peoples Party 'and the most celebrated and politically controversial baby of Pakistan' Bilawal Bhutto Zardari dramatically declared on Thursday night that he would not address the much talked about Birmingham rally on Saturday, the News reported.
The announcement by the son of former Pakistan premier Benazir Bhutto put at rest the plans that he would be launched as the new party chief and added a new sense of drama to the widespread campaign in Pakistan against President Asif Ali Zardari, who is in UK when some four million have been affected by the flash floods in his country.
In a dramatic climb-down, Bilawal said that he would continue with his studies and wanted to stay away from the media. The move comes as a humiliation to the party officials who were preparing for weeks for his grand political baptism, the report added.
In a statement released by Bilawal, an Oxford graduate, he said that he would not even be attending the event and instead will be opening a donation point at the Pakistani High Commission in London for victims of the terrible floods that have ravaged northern Pakistan.
Bilawal said, "As for my future plans, I intend to continue my education, both academic and political. I am currently looking into the possibilities of studying law, just as my grandfather Shaheed Zulfikar Ali Bhutto did. I feel that an understanding of law and an appreciation for the rule of law is important for any politician seeking to strengthen democracy in Pakistan."
Earlier, speculations were rife that 'Pakistan's emerging new star' was expected to take over at a rally in Birmingham in Central England on Saturday.
Bilawal who has graduated with a degree in History from the famous Christ Church college at Oxford, considered to be cradle of politicians worldwide, has been at his father's side during his recent visit to France and UK.
The young Bhutto who is already the chairman of PPP was expected to give a speech before several thousands of his party supporters, alongsside his father.
Apparently due to floods and terror attacks back home, the PPP is playing down the significance of the event. "Bilawal will be there and will make a speech," the PPP coordinator Waheed Rasab had said on Thursday in London.
Image: Bilawal Bhutto Zardari   Photograph: Reuters