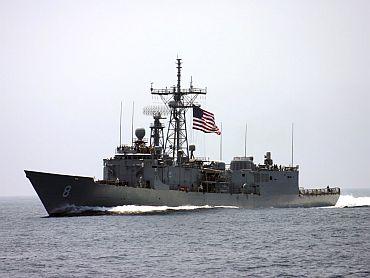 Pakistan Navy has rebuked reports that it is acquiring an over 30-year-old guided missile frigate from the United States for a whopping $64.77 million, saying that the country would be getting the warship free of cost.
A Pakistan Navy spokesman said that the transfer of USS McInerney, an Oliver Perry class frigate, is being done under the Foreign Military Funding, according to which Pakistan would 'not have to pay a single dollar for the frigate.'
The naval frigate will be handed over to Pakistan on August 31 following which it would be refurbished according to the Pakistan Navy's requirements under the US Navy's supervision.
USS McInerney, which would be called PNS Alamgir after Pakistan's acquisition, is likely to start its journey to Pakistan in January 2011 to join the Pakistan Navy.
It is worth mentioning here that Islamabad is negotiating with Washington for five more Oliver Perry class frigates.
Sources in the Pakistan Navy said that the frigate is actually a gift from the US and will fly the Pakistani flag as a cost-efficient "hot-transfer".
However, the US Defence Security Department through a notification to the Congress had clarified that the frigate along with its equipments, parts and logistical support will be worth at least $78 million.
USS McInerney is equipped with anti-submarine missile defence system, surface-to-surface missiles, and with helicopter deck landing facilities.