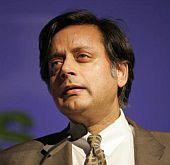 In a major development, a day after Shashi Tharoor was shown doors from the Union cabinet, the Finance Ministry's report has given a clean chit to him in connection with the Kochi IPL deal.
The Income Tax (I-T) department has said Tharoor did not benefit from the Kochi IPL deal.
The ministry said the I-T department is probing IPL Commissioner Lalit Modi's offshore money and trying to find out if stakeholders are fronts for Modi.
Meanwhile, a section of the media, has said that IT officials are probing Modi's involvement in black money and betting.
The alleged opaqueness with which Modi has conducted the multi-billion dollar cricket tournament, and the manner in which he took on Home Minister P Chidambaram in 2009, seems to have resulted in a detailed inquiry into his activities by the I-T department.
No CBI probe against Tharoor: HC

The Delhi High Court on Monday refused to entertain a plea seeking a CBI probe into former Union Minister Shashi Tharoor's alleged proxy stake in the Kochi IPL franchisee.
A bench headed by acting Chief Justice Madan B Lokur dismissed a petition filed by an advocate, saying there is no merit in the case.
The petitioner, Ajay Agarawal, contended that the former Minister of State for External Affairs, who quit his post on Sunday night in wake of the controversy, had used his official position to help get sweat equity pegged around Rs 70 crore for Tharoor's friend Sunanda Pushkar.
IPL Commissioner Lalit Modi had recently disclosed the names of the free equity holders, including Pushkar, in the Rendezvous Sports World (RSW) which shelled out approximately Rs 1533 crore to bag the Kochi franchisee.
Tharoor has denied having a stake in the franchise, saying that he merely played a facilitator's role.
The lawyer had earlier approached the Supreme Court, but withdrew the petition and moved the High Court.
"There is reasonable apprehension that hawala and black money have also played big role in this Kochi IPL case," the lawyer had alleged in his petition.