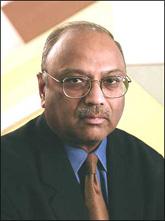 Dr C K Prahalad, one of the world's renowned management gurus, passed away in San Diego, United States on Friday. He was 68. 
Prahalad, 69, is survived by his wife, a son and a daughter.
He was a Professor of Corporate Strategy at the Ross School of Business, University of Michigan, and was well known for writing best sellers on management subjects, including The Fortune at the Bottom of the Pyramid: Eradicating Poverty Through Profit'.
Hailing from Coimbatore in Tamil Nadu, Prahalad did his graduation in Science from the Loyola College in Madras (now Chennai) and did his MBA from the Indian Institute of Management, Ahmedabad.
After his doctorate from Harvard Business School, the well-known corporate thinker had been associated with the University of Michigan.
He was also on the board of several top Indian and global companies and institutions like Hindustan Unilever, Indus Entrepreneurs and Washington-based World Resources Institute.
His other popular management and business books included 'The Future of Competition: Co-creating Value With Customers', 'The Multinational Mission, Balancing Global Integration With Local Responsiveness'.
His book on the bottom of the pyramid is the most talked about and considered relevant for developing economies like India, where the businesses have a long way to go before touching people at the lower end of the social strata.
Condoling the demise, the Indian industry paid rich tributes to the much-decorated management professor.
"We have lost an outstanding management guru, a visionary, a great soul who was highly committed to contributing towards India's growth and development," CII Director General Chandrajit Banerjee said in a statement.
Also Read: C K Prahalad on innovation