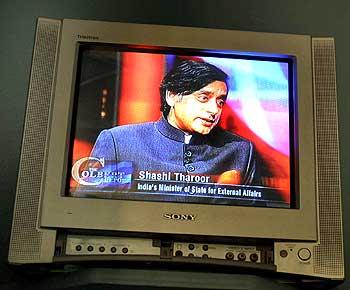 Shashi Tharoor, who is in the midst of a controversy regarding his role in the Kochi Indian Premier League franchise, has become a liability for the Congress party.
That is the political assessment the party arrived before Prime Minister Manmohan Singh returns after a week-long tour abroad.
The party, on its part, is desperate to distance itself from the entire murky affairs being played out around the Kochi franchise.
Dr Singh, it is learnt, will have to take a final call on whether the Minister of State for External Affairs should resign or not -- and if not now then how the government will ease him out.
Party chief Sonia Gandhi, indicate party sources, has debated the issue threadbare. The key factor that went against Tharoor in the close-door debate was that "he has not denied his close relationship with Dubai-based Sunanda Pushkar" 

Also, Congress leaders have been told that Dubai-based Sunni Verkey of Gems education had introduced Pushkar to Tharoor. Verkey's website claims that his institution "is the largest private kindergarten to grade 12 education provider in the world".
Verkey could not be contacted.
 
Some unresolved riddles are still left in the whole issue.
It's not yet clear exactly what kind of service Tharoor provided to the Kochi team for which investors gave his friend Sunanda a "sweat equity"
 
Also, the fact is that investors, most of them Gujaratis, are known to Sharad Pawar and some Maharashtrian politicians. When such bigwigs are involved, why would they need a political light-weight like Tharoor? So,Tharoor's involvement as just a mentor doesn't not seem logical.
 
The party's assessment is that if and when Tharoor's any further link-up with Sunanda comes up in public, it will keep haunting the party and maybe, in Parliament the issue will remain live.
 
The Tharoor issue is considered an irritant, particularly when other serious national serious issues are pending before Parliament  Also, party's senior sources secretly ask if and when Tharoor marries Sunanda Pushkar then, how will party defend him then?
 
This is one thorny issue that is currently going against Tharoor than the actual facts of the case.
There were many suggestions forwarded to solve the issue where the party can emerge unscathed. One is to ask Pushkar to surrender the sweat equity in the IPL team.
This weekend will be crucial to Tharoor's political career.