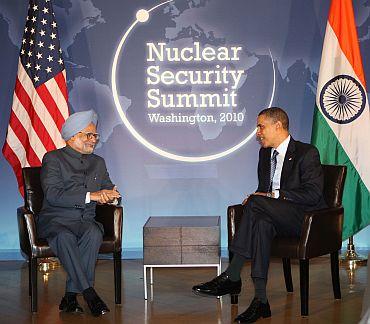 Prime Minister Manmohan Singh on Sunday highlighted the continued threat of terrorism emanating from Pakistan and its lack of will to punish those responsible for 26/11 as he met President Barack Obama and secured an assurance with regard to access to David Headley.
Obama also promised to keep in mind India's concerns over the end-use of the US military supplies to Pakistan after Singh voiced apprehensions in this regard.
The US President said he favoured reduction of tensions between India and Pakistan but the Prime Minister made it clear that the "future of South Asia would be determined by the manner in which terrorism is tackled".
Obama said the US was working through legal processes for giving India access to Headley.
"He (Obama) was fully supportive of our request for provision of such access," Foreign Secretary Nirupama Rao told reporters.
During the nearly hour-long meeting at the Blair House, Singh emphasised that Pakistan needed to take "convincing action" against those responsible for Mumbai attacks, she said.
Obama said the US understood India's concerns with regard to activities of Lashkar-e Taiba and other terror groups from Pakistan and Afghanistan and that Washington was "engaging" Pakistan on these issues.
While talking about the menace of terrorism emanating from Pakistan, Singh referred to Headley, activities of LeT and its chief Hafiz Saeed and HuJI terrorist Ilyas Kashmiri, Rao said.
"Unfortunately, there is no will on part of Pakistan to punish those responsible for terrorist attacks in Mumbai," Rao quoted the prime minister as telling Obama.
To a question, Rao said the fate of Indo-Pak dialogue had no connection with today's meeting between Singh and Obama.
She said the US as also the entire world was aware of India's approach on dialogue with Pakistan. "The US fully understands" India's position on the dialogue.
India has suspended composite dialogue since the 26/11 attacks and has refused to resume it till Pakistan takes concrete and transparent action against those behind the terror strike.
Rao said there would be no meeting between Singh and Pakistani Prime Minister Yusuf Raza Gilani in the US during the Nuclear Security Summit but did not categorically rule out such a possibility in Bhutan during the upcoming SAARC Summit.
Sources said Singh told Obama about India's skepticism on Pakistan army's role and pressed the US to ensure that army's influence diminished in Pakistan.
Obama said India has the goodwill and understanding in the US.
Noting that shared Singh's vision for South Asia, Obama said he understands India's interest in Afghanistan and recognises its role. He expressed support to India's continued assistance programme in Afghanistan.
While talking about Indo-US counter-terrorism cooperation, Obama said the US was working through legal systems for provision of access to Headley. He said he was supportive of India's request for provision of access.
On India's concerns over misuse of US military supplies to Pakistan, Obama said the US was sensitive to these worries and would monitor the end use of the material given.
The US President referred to the Civil Nuclear Liability Bill and expressed hope that it would be passed by Parliament as expeditiously as possible.
The bill, whose passage is critical for implementation of the Indo-US civil nuclear deal, has got caught in a political quagmire with opposition parties objecting to certain clauses in it, including the cap of Rs 500 crore on compensation.
The US team comprised Secretary of State Hillary Clinton, White House Chief of Staff Rahm Emanuel, National Security Adviser General James Jones, Assistant Secretary of State for South and Central Asia Robert Blake and Under Secretary of State for Political Affairs William Burns.

EARLIER, Obama walked across the White House to the Blair House and warmly received 77-year-old Singh before getting into talks. Singh and Obama had last met at the White House on November 24, 2009 during the former's state visit. A white canopy was erected to the entry of Blair House and there was tight security at Lafayette Park and the area around the White House.
Image: US President Barack Obama meets Manmohan Singh at the Blair House in Washington DC.
Photograph: Paresh Gandhi