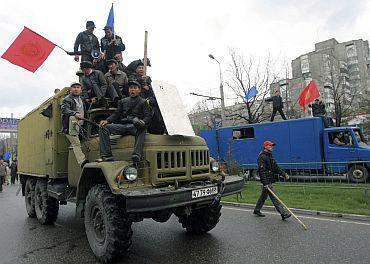 Kyrgyzstan's Prime Minister Daniyar Usenov resigned with his entire cabinet late Wednesday night and has fled to neighbouring Kazakhstan as anti-government protesters seized the Parliament and clashed with security forces in which at least 40 people were killed and over 400 injured.
Usenov signed his cabinet's resignation and handed over the powers to the leader of parliamentary opposition, ex-Foreign Minister Roza Otunbayeva, Interfax news agency reported from capital Bishkek.
Later in a statement Otunbayeva declared that the power in this of Central Asian republic has been assumed by the government of popular trust, RIA Novosti reported.
Since Tuesday's protests against President Bakiyev, the Opposition has captured administration in Talas, Chui, Naryn and Issyk-Kul regions in the north and west and are said to be in control of several districts in Osh region in the south loyal to Bakiyev.
President Kurmanbek Bakiyev has fled the country by air, while Prime Minister Usenov left by road for Almaty in neighbouring Kazakhstan with his security in several off-road vehicles, Moscow-based Kommersant FM radio has confirmed.
Bakiyev left the country in a special aircraft which took-off from Manas International Airport around 8 pm (IST) for an undisclosed destination.
Russian agencies have reported that Bakiyev's family home has been ransacked and looted in the absence of any security guards.
Meanwhile, the new interim government has appointed its defence, security and interior ministers, who are trying to restore law and order in the capital amid growing incidents of looting by marauders.

The riots erupted as the agitators alleged corruption in the administration and protested against the rise in power prices recently.
The Interior Minister Moldomusa Kongatiyev was beaten to death by the opposition protesters in the western town of Talas.
Prime Minister Daniyar Usenov declared a state of emergency in an effort to contain the riots.
However shortly after emergency was declared, agitators marched towards the Kyrgyz television centre, ransacked the building and forced to halt all programmes. They also looted the radio building and took the deputy prime minister Akylbek Zhaparov hostage.
Protesters raised slogans like "Bakiyev out!" and  "We don't want this rotten power."
"We consistently stand for all disagreements -- political, economic and social -- to be solved within the framework of the democratic procedures that exist in Kyrgyzstan, without the use of force and harm to the Kyrgyz citizens," deputy foreign minister Grigory Karasin told the Interfax news agency earlier in the day.
The US, which has an air base in Kyrgyzstan to aid NATO forces in fight against Taliban in neighbouring Afghanistan, also expressed "deep concern" about the situation in this former Soviet nation.
Meanwhile, media reports said a top Kyrgyz opposition leader has claimed that around 100 were killed in the violence and asked the government to hand over the administration to the Opposition.

Image: Protesters sit on a military vehicle during clashes with riot police in Bishkek
Photograph: Vladimir Pirogov/Reuters