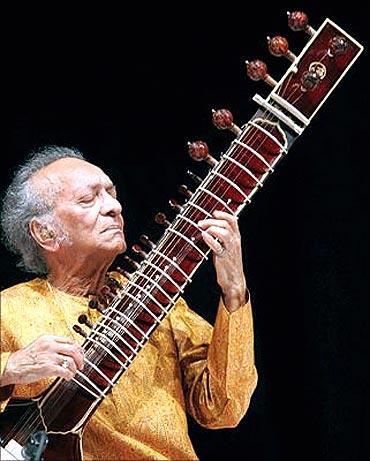 Ravi Shankar, the man who introduced the world to the delights of Indian classical music, turns 90 today.
The sitar maestro, who brought his melodious sounds to the shores of America in the 1960s, was born April 7, 1920 in Varanasi.
Even before he broke down East-West music barriers and earned international recognition, Shankar was a prodigious talent with a lengthy resume. He studied under the legendary Allauddin Khan, worked as a music director for All India Radio and composed the highly acclaimed music of Satyajit Ray's Apu Trilogy.
In 1966, turning his sights outward, he famously tutored The Beatles guitarist George Harrison for six weeks, an experience that led Harrison to pen two songs explicitly influenced by Indian music, "Within You Without You" and "Love You To".
To briefly touch on a career choc-full of highlights: Shankar has won three Grammy Awards, performed at the famous Woodstock Festival in 1969, published a best-selling autobiography, opened educational institutes and taught Indian classical music in America, was honoured by the prestigious UNESCO International Music Council in 1975, is an honorary member of the American Academy of Arts and Letters and received the 1997 Praemium Imperiale for music from the Japan Art Association.
There's an argument for super genes at work here, too, as Shankar's two daughters -- Grammy-winning American pop artist Norah Jones and budding sitar star Anoushka Shankar -- are themselves accomplished musicians.
As evidence of his staying power, consider that Shankar has received India's three highest civilian honours -- the Padma Bhushan in 1967, the Padma Vibhushan in 1981 and the Bharat Ratna in 1999 -- each in a different decade!
Really and truly, he is a national hero, an icon and a treasure.
Wish him on this very special occasion, right here!