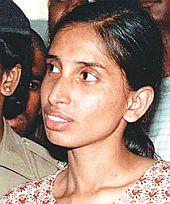 The Madras High Court on Tuesday dismissed a plea of Nalini, a life convict in the Rajiv Gandhi assassination case, seeking premature release under the general amnesty scheme.
Rejecting her petition, a division bench comprising Justices Elipe Dharma Raj and K K Sasidharan observed that 44-year-old Nalini had committed the crime in a cunning and meticulous manner which killed the former prime minister in Sriperumbudur on May 21, 1991.
"So she cannot seek premature release as a right, though she does have the right to seek consideration of her plea," the bench said.
"She had committed a crime which was cunnning in conception, meticulous in plans and wreckless in execution, taking away the life of the former prime minister," the judges held.
In 2008, the high court had rejected Nalini's plea for release on the ground that her case was investigated by CBI under 435 of CrPC, which says all cases probed by the central agency cannot be decided by the state without consulting the central government.
Nalini had filed her appeal contending that the governor had powers under Article 161 of the Constitution, which the court today rejected. She had filed the plea for her premature release in 2006, when 421 prisoners were released by the governor exercising his powers under Article 161, contending she had already served 14 years in prison and was eligible for release.
The bench held that the governor had then exercised the powers granted to him under Article 161 judiciously.
Nalini had argued that just because CBI investigated her case, her plea for premature release was rejected. Noting that the nature of offence also played a major role in considering a case of premature release, the court said she could not claim equality with other life convicts.

© Copyright 2021 PTI. All rights reserved. Republication or redistribution of PTI content, including by framing or similar means, is expressly prohibited without the prior written consent.