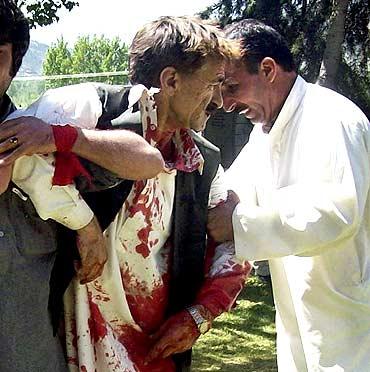 Setting off powerful explosions and firing from automatic weapons, militants dressed in battle fatigues made a brazen attempt to storm the US consulate within the cantonment in Peshawar on Monday, killing at least one policeman before six attackers were gunned down.
The heavily-armed militants came in two cars and raked two security check posts near the US consulate with gunfire.
Before attacking the check posts, they set off at least three powerful explosions, apparently as a cover for carrying out
the attack.
The outer wall of the consulate was damaged in the explosions, TV channels reported. One policeman was killed and another injured in the gun battle, provincial Senior Minister Bashir Bilour told reporters.
"The militants were well-equipped. It was a well-organised attack," Bilour said. 
"The situation is now under control," he said, adding the attackers were carrying a large amount of explosives and
several suicide jackets which were being defused by security personnel, he said.
The bodies of six militants were found in the area, Geo News channel quoted its sources as saying. Several buildings near the consulate were also damaged in the explosions.
The attackers were wearing uniforms of the Frontier Corps and also targeted an armoured car at Shama Chowk, Geo News reported.
The US consulate is located near several key thoroughfares of Peshawar, including the Mall Road, Michni Road and Fort Road.
Several important military facilities are also situated near the consulate.
The three blasts occurred within 20 minutes in the area around the consulate. The first blast went off at 1.19 pm
and the two others occurred at 1.31 and 1.33 pm.
The blasts occurred hours after a suicide bomber struck a gathering at Timergara in Lower Dir district, killing 25 people and injuring 100 others.
The gathering was organised by the Awami National Party to celebrate the federal government's decision to rename the North West Frontier Province as Khyber Pakhtoonkhwa.
Image: An injured man is assisted at the site of a suicide bomb attack in Timergarah, situated in Lower Dir district of Pakistan's restive North West Frontier Province on Monday.
Photograph: Reuters