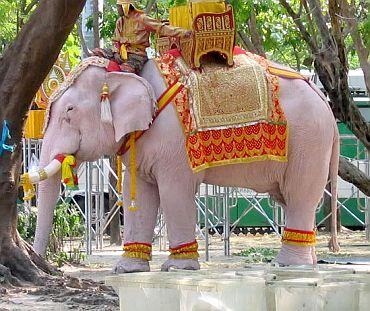 Elephants hold a special place in the hearts of Southeast Asians. And if it's a white elephant, it becomes a matter of hope and good fortune.
So when an elephant handler spotted the rare elephant in the forested hills behind Ngwe Saung beach in Myanmar, news spiralled through the corridors of power like wild fire.
The military dictatorship of Myanmar led by Senior General Than Shwe immediately dispatched a company of some 50 soldiers, with an entourage of elephant handlers and veterinarians armed with tranquilliser darts, The Independent reported. The search for the rare animal is on at present
White elephants have been objects of reverence and envy. They have brought glory to the kings who possessed them and have been the objects of dreadful wars, launching not ships, but battalions of lesser elephants.
While the military junta hopes that the white elephant prolongs their hold over power even after the country's first elections in more than 20 years. It is a different story that it could do so without the pachyderm, as the Opposition has already decided to boycott the polls following the junta's decision to bar detained opposition leader Aung San Suu Kyi from contesting.
But for Myanmar citizens, the spotting of the albino elephant comes as a ray of hope for peace in the nation, which is dogged by rampant poverty.
The legend of the white elephant originates in tales of the birth of Buddha: A white elephant reputedly appeared before his mother and presented her with a sacred lotus flower. The ancient Burmese kings believed that white elephants were found only during the reign of good kings and that the possession of one would help a country prosper. Conversely, the death of one of these creatures could spell disaster.
Image: File photo of a white elephant in Myanmar