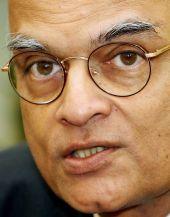 Warning that India and China could ill-afford misperceptions on policy, National Security Advisor Shivshankar Menon on Thursday said that pursuit of an ambitious agenda by the two countries could put bilateral relations on a sound footing.
"When the world is changing so rapidly, and when uncertainty in the international system is at unprecedented levels, neither India nor China can afford misperceptions or distortions of policy caused by a lack of understanding of each other's compulsions and policy processes," he said.
Menon asserted that in a democracy like India, foreign policy has a symbiotic relationship with public opinion, which is formed by it and needs its support to be legitimate, coherent and implementable.

"It is only on the basis of informed and supportive public opinion that we would be able to grasp the opportunities and move forward on the ambitious agenda that awaits India-China relations, the pursuit of which would place India-China relations on a sound footing for the 21st century," he said.
He was speaking at a seminar organised by the Indian Council of World Affairs to commemorate the 60th anniversary of India-China diplomatic relations.
"We have all witnessed this phenomenon in India-China relations in the last year or so," Menon said.

Chinese Ambassador to India Zhang Yan said that efforts should be made by both China and India to properly handle public opinion.

"Public opinion is vitally important to the development of our relations. Two countries should provide correct guidance to the public opinion and avoid war of words," Zhang said.

Efforts should be made on both sides to create an environment that is objective, friendly and that of mutual trust.

"A good and conducive public environment will not only provide a necessary condition for the stable development of our relations, but also create conditions conducive to the settlement of historical issues and other differences," Zhang said.

He said the two countries should further enhance mutual trust, which is vital to a sound and stable relationship.

"Without trust there can be no sustained and meaningful cooperation. Two countries should maintain the momentum of high-level interaction, expand exchanges and cooperation at all levels and in all fields," Zhang said.