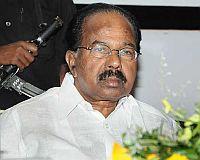 Union Law Minister M Veerappa Moily has backed the Centre's decision to drop the case against Ottavio Quattrocchi admitting that there was nothing left to do in the case.
Ottavio Quattrocchi, an Italian businessman, is the main accused in the Bofors gun purchase scam.
Moily pleaded helplessness in the investigation and defended the Central Bureau of Investigation's positive role.
Speaking to a private news channel Moily said, "This case is going on since long. If he could be brought back and any conviction could be held then the case could be pursued with a positive result. But ultimately nothing positive was found."
"In Feb 2004 itself the Delhi High Court said it is a waste of time. Thereafter the case was handed over to the CBI, and they have been playing a positive role for 22 years now. We must have spent more money in the case than the Bofors gun itself," Moily added.
On Tuesday, the CBI decided to withdraw all cases registered against Quattrocchi in the Bofors gun purchase scam.
"We want to close the matter against Bofors accused Ottavio Quattrocchi," said the CBI.
Earlier, the Centre had informed the Supreme Court that they want to withdraw all cases against Quattrocchi.
Solicitor General Gopal Subramanium told the court that the CBI has failed to extradite Quattrocchi and that the Delhi High Court has held that there is no case under the Prevention of Corruption Act in the Bofors matter.
The Supreme Court will hear the matter on December 11.
The controversial Bofors gun deal was a major corruption scandal in India in the 1980s, in which former Prime Minister Rajiv Gandhi and several others were allegedly accused of receiving kickbacks from A B Bofors, the Swedish arms manufacturer, in order to win the bid to supply the army with 155 mm howitzer guns.
The court had on February 10, 1997, sent letters to Malaysia and the United Arab Emirates seeking the arrest and extradition of Quattrocchi.
The CBI had registered an FIR in the Bofors case on January 22, 1990, three years after Swedish Radio on April 16, 1987, had claimed that A B Bofors had paid kickbacks to top Indian politicians and key defence officials to secure the Rs 1,437 crore gun deal.
The contract between the Indian government and AB Bofors was signed on March 24, 1986.
Image: Union Law Minister M Veerappa Moily