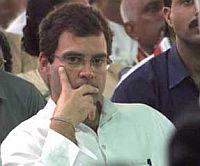 All India Congress Committee general secretary Rahul Gandhi faced some uncomfortable questions when he went for an interactive session at the Jawaharlal Nehru University, the bastion of Left-leaning students, on Tuesday.
"Opposition first," said Rahul indicating towards some students who were holding black flags and shouting slogans to oppose his visit.
A student asked why the central government had given "huge subsidy" to corporate houses while the cost of higher education is going to increase according to the latest human resource development circular.
"You seem be the follower of the Left ideology," Rahul responded. "The United Progressive Alliance government aims at distribution of growth, but the Left only talks of distribution. They have no way to grow."
To the discomfort of the young Congress leader, a student said, "Rahul bhai, you are a real rajneta. You are speaking so much but answering nothing."
"Mr Gandhi, I am not here to ask you anything related to fake encounters in Manipur, the '84 anti-Sikh riots or farmers dying in Vidarbha. You talk of democratisation and participation. Please tell me who chose you as a leader," was a question from one of the students.
Rahul promptly replied that the questioner had not seen his capability. "I have three options: to sit quietly, to propagate the system or to question the system. I have chosen the last one."
At one stage, he said JNU students were considered intelligent, but wondered why no one asked him a question relating to long-term benefits for the country.
When asked about the Right to Education Bill by the JNU Students Union general secretary Sucheta De, Rahul admitted that he had no knowledge about it and would look into the matter.
At times, the Congress leader had to pitch in with leaders of the National Students' Union of India to answer some questions.
Seeking to silence his critics who question his visits to the houses of Dalits in Uttar Pradesh and Maharashtra, he said people had wholeheartedly welcomed him. "When I go to their houses, they welcome and cuddle me and say you are the first politician who has come to meet us," Gandhi said.
"If one politician goes to a Dalit's house, you ask why do you go to a Dalit's house. When thousands of leaders do not visit Dalit houses, you do not ask them why do they not go."
"I go to a poor man's house. It is the media which says it is a Dalit or an Adivasi's house."
To queries about hierarchal system in politics, including his lineage, the young Congress leader said, "The hierarchal system exists. It is a reality. But what is the option before me? I can either propagate the system or change it. I am not the one to propagate it so I am trying to change it. You do not like the system; even I do not like it. We have to work together to change it," he said.
The 39-year old Congress leader noted at one stage that the students were asking him "difficult" questions, but said he was ready to answer them all.
Image: AICC general secretary Rahul Gandhi