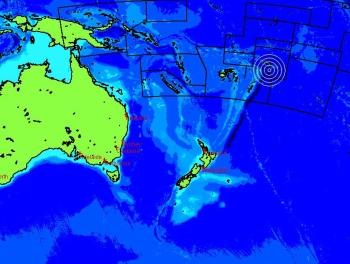 The tsunami death toll triggered by an 8.3 magnitude earthquake, which rocked Samoa and other Pacific islands, could reach 100, according to Red Cross and media reports.
Locals in Samoa have been told more than 100, and possibly 'hundreds', may have been killed in the tsunami that hit the island this morning.
The confirmed death toll from the South Pacific earthquake and tsunami is at 36, with a minimum of 14 reported dead in both Samoa and American Samoa, The Sydney Morning Herald quoted reports as saying.
But media in Samoa says the tsunami had devastated villages on the south of the island, and the number of people feared dead was far higher.
"It's like nothing we've ever experienced before," said Tasi Uesele, a resident of the  Samoan capital Apia.
"There's unconfirmed reports that up to 100 people, including tourists, are missing right now because of the waves that hit hard," she said.
A large number of the dead were believed to be from Lalomanu, a popular tourist village on Samoa's south-eastern tip, she said.
"We don't know if the 100 are from people swept out [to sea] or from when tremors shook and people were buried in their own houses. We just saw some footage of dead people being brought into the hospital ... we've only seen about three or four dead and a lot of people wounded," Tasi added.
A Samoan schoolgirl, whose village was evacuated to the mountains around Apia, also said local radio reported hundreds of people were killed when the tsunami hit Lalomanu.
 "They're still looking for other people, missing people, they said hundreds. There are no houses, clothes, and stuff is all everywhere," said Sulu Bentley, who lives in Leauvaa, 15 minutes from Apia.
Tasi said the first wave hit so quickly after the tremor that locals had little time to react.
Image: An earthquake event location map shows the location of an earthquake in the Samoa Islands Region of the Pacific Ocean | Photograph: West Coast and Alaska Tsunami Warning Center/Reuters