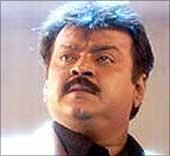 Tamil-actor-turned political leader Vijaykanth told
rediff.com
that Tamil Nadu Chief Minister M Karunanidhi's announcement demanding Indian citizenship for Sri Lankan Tamil refugees is helping the dream of Sri Lankan President Mahinda Rajapakse.
Vijaykanth was termed 'spoilsport' in the last Lok Sabha election. His four-year-old Desiya Murpokku Dravida Kazhagam got 10.9 percent votes and helped Dravida Munnetra Kazhagam-Congress win by default despite anti-incumbency. In the recent by-election too, the DMDK got more than 20 per cent votes.
Vijaykanth is dreaming to become the next M G Ramchandran of Tamil Nadu and hoping to rule the state. This week, Vijayakanth is camping in New Delhi in Hotel Meridian with his team consisting of his wife Premlatha, her brother L K Sudhish and P Ramchandran, former minister and confidante of  late MGR.
The superstar told rediff.com, "In Sri Lanka, Rajapakse wants to get rid of Tamils. Sri Lankan Tamils are fighting within to retain their homeland. By giving them Indian citizenship Karunanidhi is fulfilling dreams of Sri Lankan president. Sri Lankan refugees want to get back home soon. In fact struggle by Tamils in Sri Lanka is to retain their homes, not forsaking it forever."
He added, "The proposal of Karunanidhi goes against the interests of Sri Lankan Tamils are living overseas in Malaysia, Indonesia, Canada and other countries, too. If India gives them citizenship then what will happen to them?"
Vijayakanth held a day's fast in New Delhi to highlight Tamil fishermen's plight, who are frequently harassed by the Sri Lankan navy.
The Tamil hero of 140 films is taking up people's issues and trying his best to chart out his political life in MGR's mould. He says, "I am a fanatic fan of MGR."
The issue of fishermen's plight is a genuine one and Vijaykanth says, "As many as 300 fishermen has lost their lives since 1983."
He says it was expected that after the end of hostilities in Sri Lanka the attacks by the Lankan navy will end; but the situation is still tense in coastal districts of Ramanathapuram, Pudokkottai, Nagapattam, Tanjore and Thiruvarur.
In a letter to Prime Minister Dr Manmohan Singh the actor has written that, "The Sri Lankan government claims that our fishermen are crossing the International Maritime Boundary and going deep into their areas. Even when such things happen, the normal course is to take them into custody and inform our government. Instead, Sri Lankans resort to physical violence and torture apart from damaging their boats and fishing equipment."
As a solution, Vijayakanth wants PM Singh to intervene and talk to Sri Lankan government and eventually declare the seawaters between India and Sri Lanka as a "free fishing zone."
In a Tamil film, Vijaykanth delivered a famous dialogue, "When normal man touches current he gets a shock. I am Narsimha! When current touches me it gets a shock."
But, in New Delhi, the superman of Tamil films was facing barrage of questions from media, and some quite shocking for him.
When a senior journalist asked him, "When are you merging your party with the Congress?" Vijaykanth was taken a back. After a while he recovered and said, "If Congress wants to ally with me they should accept my leadership. I will never pledge my party to the Congress."
Vijaykanth dismissed the talks of merger as 'rumour.' He also dismissed his alleged friendship with Union minister Dayanidhi Maran. He said, "Who Maran? I have met him once or twice and said, "Hello, Hello!"
Vijayakanth is nicknamed as Captain after his hit film Captain Prabhakara. He is also known as 'karuppu MGR' meaning black MGR.
At 57, he is quite bulky like most southern superstars. He speaks softly and cautiously. His group is soon starting a TV channel Captain TV for which they have got permission after a long wait. Once, the All India Anna Dravida Munettra Kazhagam chief J Jayalalithaa had accused, on the floor of the state assembly, that Vijaykanth starts drinking alcohol from morning. His drinking habit has been under control, claim his supporters. His father K N Alagarswami owned a rice mill in Madurai. His wife Premlata claims that, "Vijayakanth is always surrounded by labourers of the Tamil film industry who are very poor. In our house and office everyday 50 people eat."
P Ramachandran explains that on Vijaykanth's birthday on August 25, the actor always announces big schemes to help the poor. This year he announced that every girl child born on his birthday in government hospitals will get life insurance of Rs 10,000 so that when she grows up she will get sum of Rs 1.5 to 2 lakh during her marriage.
Same way on his earlier birthday he gave 600 scholarships for computer training.
Vijayakanth quite passionately talks about his political battle with Karunanidhi. He says, "DMK steals his ideas."  
He also alleges, "Karunanidhi's corruption is quite scientific so it is difficult to catch him."
He says he entered politics to fight corruption and eliminate poverty.
Vijaykanth speaks only Tamil and while in his meetings with journalists in New Delhi, P Ramchandran was translating his views. When asked " If and when you become CM of Tamil Nadu don't you think language will be a problem?"
Vijayakanth said, "What difference it makes in time of M K Azhagiri?" Karunanidhi's son Azhagiri, Union fertilizers minister in Dr Singh's cabinet does not know enough English or Hindi. He also says, "Even MGR didn't speak English."
While smiling Vijaykanth said, "Thoda Hindi maloom!"