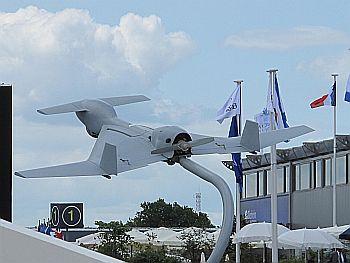 The Indian Air Force will induct lethal drones within two years, providing itself the capability to hit high value targets such as enemy missile and radar sites, and even terrorist hideouts.
A senior IAF officer said in New Delhi on Wednesday that Israeli-made 'Harop' Unmanned Combat Air Vehicle would join the IAF by 2011 and it will enhance the war-fighting capabilities of the IAF, both conventional and low intensity conflict.
Harop will be IAF's first unmanned aerial vehicle for offensive strikes, though it already possesses a fleet of 'Searcher' and 'Heron' UAVs to perform surveillance and reconnaissance roles.
The Harop will provide IAF the capability to take down enemy positions without having to send its manned fighter aircraft to hit ground targets.
Developed by Malat, the UAV division of the Israel Aerospace Industries, the Harop UCAVs were bought by India recently through a reported $ 100 million deal for up to 10 drones. Harop, which is usually launched from ground- or sea-based canisters, can be adapted for air-launch too.
Harop is an upgraded and larger version of the Israeli Harpy UAVs, an anti-radiation seeker designed to loiter, detect and home in on enemy radar positions which India had bought and inducted into its armed forces in the past.
Unlike the fully-autonomous Harpy, the Harop is controlled in flight by a remote operator. Rather than holding a separate high-explosive warhead, the Harop drone itself is the main munition and is designed to loiter the battlefield and attack targets.
The UCAV cannot only hit enemy radars by locking on to their radio emissions, but also has an electro-optical sensor that allows the remote operator to select static or moving targets in a battlefield.
Harop, a 23-kg warhead, is 2.5 metre long with a 3-metre wingspan and has a six-hour endurance. Moreover, unlike the Predator drones being used by the United States against the Taliban in Afghanistan and Pakistan that can fire missles and return after a mission, the Harop is self-destruct, making them a more expensive option.
The IAF officer said while efforts were on to develop indigenous UCAVs, India is 'not very close' to have them in its fleet.
"There are plans for UCAVs. But it will take time, as nobody is willing to give us the technology," he added. The IAF's procurement plans for UCAVs actually start in the 12th five-year plan that begins in 2012.
Image: Harop UCAV    Text: PTI
Picture courtesy: Wikimedia Commons   
© Copyright 2021 PTI. All rights reserved. Republication or redistribution of PTI content, including by framing or similar means, is expressly prohibited without the prior written consent.