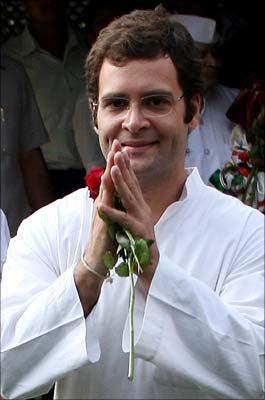 Senior Bharatiya Janata Party leader Shatrughan Sinha's fondness for Rahul Gandhi appear to be increasing by the day as he lavished fresh praises today for the young Congress leader, saying he saw a bright future ahead for him.
"My statement (yesterday) was good wishes and God Bless to Rahul Gandhi, who has had a very good upbringing... (he is) very well behaved," Sinha said.
The actor-turned politician had praised Rahul yesterday in Nagpur after meeting RSS leaders.
"The way he has been working in the grassroots, the way he has been travelling, the way he has been moving around... I think he could be a... Tomorrow I definitely see a bright future for him," Sinha said.
Several of Sinha's statements in the recent past have embarrassed his party.
Yesterday, he had said expelled leader Jaswant Singh should be brought back to the party-fold. He had also concurred with his senior party colleague Arun Shourie and said RSS should take over BJP as the party had a "leadership crisis".
The Shotgun's praise for Rahul is likely to embarrass BJP further, especially at a time when three states are going to polls on October 13.
Photograph: : Reuters