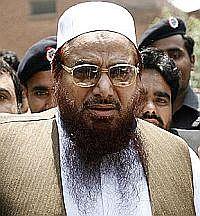 A Pakistani court on Monday admitted a petition filed by banned Jamaat-ud-Dawah chief Hafiz Mohammad Saeed challenging two cases registered against him by police under the Anti-Terrorism Act for inciting people to wage 'jehad'.
After a preliminary hearing, a two-judge bench of the Lahore High Court issued notices to the federal and Punjab governments and police officials in connection with the two First Information Reports registered in Faisalabad against Saeed, who has been blamed by India for masterminding the Mumbai terror attacks.
The bench set October 12 as the date for the hearing of the petition. Police in Faisalabad in Punjab province recently filed two FIRs against Saeed for making speeches in the city in which he allegedly called on people to wage jehad or holy war against infidels and sought funds for his banned group.
Talking to mediapersons outside the Lahore High Court, Saeed's counsel A K Dogar claimed the JuD chief's call for jehad was not illegal as such a measure is obligatory according to the Quran.
Dogar claimed the JuD is not a banned group and restrictions imposed on it by the United Nations Security Council did not apply in a "sovereign country" like Pakistan. He also claimed India was wrongly accusing Saeed of involvement in last year's Mumbai attacks.
Dogar said the speeches made by Saeed during his visit to Faisalabad last month did not attract the provisions of the Anti-Terrorism Act. Saeed, also the founder of the banned Lashker-e-Tayiba, was placed under house arrest in December last year after the UN Security Council declared the JuD a terrorist group.
He was freed on the orders of the Lahore High Court in June. He said in his petition that his release on the direction of the High Court had caused an "uproar in India", which had pressured the Pakistan government to take action against him.
Following the registration of the two FIRs in Faisalabad, police imposed restrictions on Saeed's movements on September 20. However, confusion surrounds his current status as officials have been making conflicting statements as to whether he has been detained.
Pakistan Prime Minister Yousuf Raza Gilani has said Saeed is 'in custody' while Lahore police chief Pervaiz Rathore said he was under 'house arrest.'
On the other hand, Punjab police chief Tariq Saleem Dogar has said Saeed is not under arrest or house arrest and he has also not been placed in protective custody. No formal written order has been issued for Saeed's detention and there is also no formal notification banning the JuD.