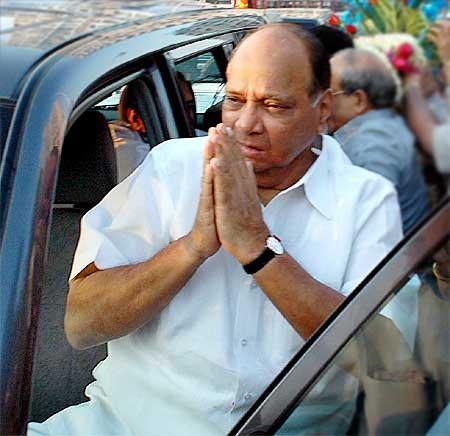 Nationalist Congress Party leader Sharad Pawar today said younger leaders should be given more responsibilities in the party and suggested he would like to slowly step back and don the role of a "guide."
"It is time for the younger generation to play a greater role and for me to slowly step back. Isn't that a good idea," 69-year-old Pawar said at an election rally in Sholapur setting of speculation whether he was talking of any plan to retire from active politics.
"I am getting old. Now that the people have elected me to a five-year term, I will complete that term and return to the state and hand over responsibilities to younger leaders,"  said the Union Agriculture minister and former Maharashtra chief minister.
Pawar's daughter Supriya Sule is a Lok Sabha MP from Pawar's pocketborough Baramati constituency in Maharashtra. Both Congress and NCP have fielded several young candidates for the upcoming Assembly polls.
Reacting to Pawar's comments, NCP general secretary D P Tripathi said his remarks were just a reiteration of the party's position that "we are there to encourage the youth and the younger generation."
"This is not to control, contain rebellion or to garner sympathy votes," Tripathi said.
"Pawar wanted to pave way for the younger generation. That is why is didn't even want to contest the Lok Sabha elections in 2009. The entire party persuaded him and prevailed upon him to contest the Lok Sabha elections in 2009," he added.
Photograph: Rediff Archives