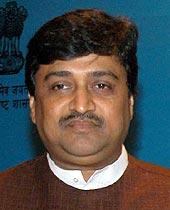 Maharashtra Chief Minister Ashok Chavan on Friday said the Congress-Nationalist Congress Party combine stands a good chance of returning to power after the October 13 assembly elections as the Opposition in the state was in a state of complete disarray.
"We are going to people again on our performance. But, at the same time, we will also benefit because the opposition camp is in disarray," Chavan said.
"The government's performance in the last ten years in the field of social justice, financial aid to farmers, infrastructure development in Mumbai and other urban areas, investment in power sector stand us in good stead," he added.
Chavan said the Congress was much better placed than the Shiv Sena-Bharatiya Janata Party combine. "Sada Sarvankar, sitting Sena Member of Legislative Assembly from Dadar, has quit the party and Gajanan Kirtikar may soon follow suit. Similarly, Rajendra Gavai of the Republican Party of India Gavai faction is joining the Congress-led alliance and we may leave a few seats for him," the chief minister said.
However, he admitted that the Amravati seat where Rajendra Shekhawat, son of President Pratibha Patil, is contesting, may pose a problem. "We will persuade sitting MLA Sunil Deshmukh not to rebel. He will be accommodated suitably," Chavan said.
The CM said Shekhawat has been working in the constituency for the last two-and-a-half years and had sought a ticket. "He did not get the ticket because he was the President's son though it may appear so. Being the President's son is not a disqualification," said Chavan, who is the son of former CM S B Chavan.
On the Third Front, he claimed it had no agenda and is a confused lot without any direction. He also criticised Third Front leader Ramdas Athawale for accusing the Congress of vendetta after his belongings were removed from his official bungalow in Delhi. "How is the Congress responsible? He was overstaying in the bungalow and action has been taken which is not illegal," he said.
Speaking on the Sena factions, Chavan said, "The Maharashtra Navnirman Sena and Shiv Sena are two sides of the same coin. They have to share their failures and successes."
Congress president Sonia Gandhi, General Secretary Rahul Gandhi and Prime Minister Manmohan Singh will arrive in the state for campaigning from next week and details of their tour is being worked out, Chavan, who filed his nominations from Bhokar assembly segment, said.