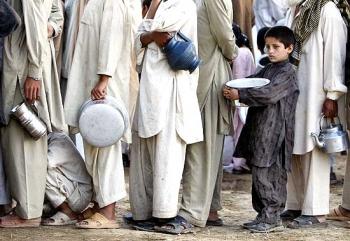 Saudi Arabia has pledged $100 million as aid to its long-time ally Pakistan, to help in the rehabilitation of the thousands of people who have been affected by the ongoing clashes between the army and militants in the country's tribal regions.
Saudi Arabia's contribution, the single largest for the current emergency in Pakistan, "will enable the humanitarian community in Pakistan to reach hundreds of thousands of people in need and help restore their homes and livelihoods," said a United Nations Humanitarian Coordinator for the country.
Over a million of the 2.7 million people, who were forced to flee their homes since the start of the conflict last August, are still living with host families or in camps, with the ongoing military operation triggering new displacements, according to the UN Office for the Coordination of Humanitarian Affairs.
The humanitarian situation in Pakistan was among the topics discussed by UN Secretary-General Ban Ki-moon and Pakistan President Asif Ali Zardari earlier this week.
Till date, just over half of the $680 million aid appeal for Pakistan has been funded by nearly two dozen nations, private individuals and organisations.
Image: A UNHCR camp in Jalala | Photograph: Mian Khursheed/Reuters