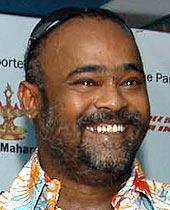 Former cricketer Vinod Kambli started his political innings on Thursday by filing his nomination for the Maharashtra assembly polls on October 13, from suburban Vikhroli in north-eastern Mumbai.
Vinod travelled in a local train from Sion to Vikhroli and filled his nomination, along with supporters from his political outfit Lok Bharati. "I started my first inning as a cricketer from the train so wanted to start my second inning from the there (train)," Kambli said.
The left-handed batsman, appealed voters to vote him as a politician not as the cricketer. "I want to take cricket and politics separately and work for betterment of the people," he said. He had declared the launch of a new sports academy in collaboration with journalist Dwarkanath Sanzgiri, at a media conference in Mumbai recently.
Asked if his childhood friend and international cricketer Sachin Tendulkar would be doing campaign for him, he said no. "Sachin is busy with cricket but his wishes are always with me," he said.