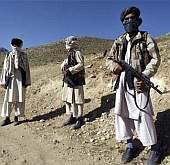 Expressing concerns over the growing level of sophistication and organisation among the Taliban leadership, top US military and intelligence officials have said that they believe that the Taliban still gets support from the Inter-Services Intelligence and the Pakistan Army.
A report based on the assessment of the US led 'war on terror' by General Stanley McChrystal, the top military commander in Afghanistan, also highlights the increasing clout of the Taliban even after eight years of continuous struggle.
In his report, General McChrystal has underlined how efficiently Taliban chief Mullah Omar is running his 'shadow government' in Afghanistan.
'Mullah Omar appointed shadow governors in most provinces of Afghanistan, levied taxes, established Islamic courts there and conducted a formal review of its military campaign each winter,' The New York Times quoted the report, as saying.
Even after Islamabad's denials, US officials believe that the Pakistani military and the ISI is lending covert support to the Taliban resistance in Afghanistan.
With the recent string of attacks, which has killed several troops from Italy and Germany, the issue of Taliban leadership council, or shura, in Quetta (Balochistan) is now at the top of the Obama administration's agenda in its meetings with Pakistani officials, the newspaper reported further.
It is worth mentioning here that Washington has long complained that senior Taliban leaders based in Quetta, provide money, military supplies and assist their counterparts in southern Afghanistan with strategic planning.
A majority of the US-led allied forces (about 68,000 troops) are deployed in south Afghanistan itself. However, the stiff resistance being offered by the Taliban in the region has surprised the US forces.
"The Taliban is trying to create trouble elsewhere to alleviate pressure in the south. They've outmaneuvered us time and time again," said a senior American intelligence official.