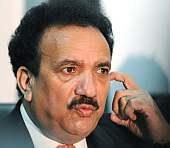 Pakistan Interior Minister Rehman Malik has claimed that India is involved in fanning terrorism inside Pakistan even though it has no 'concrete' evidence in this regard.
In an interview to a private television channel, Malik claimed that extremists who were apprehended during raids in the Swat Valley have confirmed India's hand in terror activities inside Pakistan.
He, however, said Islamabad lacks concrete evidence in this regard.
'Yes, it is true the terrorists arrested from Swat and tribal areas of the country have confirmed Indian involvement in terrorist activities in Pakistan,' Malik said.
He also blamed New Delhi for not supporting Islamabad in its probe regarding the Mumbai terror attacks.
'Pakistan had offered unconditional support to India after last years Mumbai attack but our sincere efforts to bring the culprits of this incident to justice are not being replied constructively,' The Dawn quoted Malik as saying.
Commenting on the progress made in the 26/11 terror attacks investigations, Malik held India responsible for the delay.
He reiterated Pakistan's stance of holding bilateral, saying leveling allegations against each other would further deteriorate relations between the two countries.
'Leveling allegations against each other would further harm relations between Pakistan and India. Here we are asking India to come to the table for talks to resolve all outstanding issues. If India has any reservation in investigating the Mumbai attack then it should come forward and hold talks with us,' Malik said.