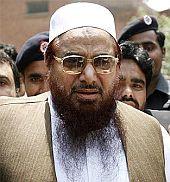 Hafiz Mohammad Saeed, chief of the banned Jamaat-ud-Dawah and blamed by India for masterminding the Mumbai terror attacks, filed a petition in a Pakistani court on Thursday seeking the discharge of two "fake" cases registered against him under the Anti-Terrorism Act.
The writ petition, filed in the Lahore High Court by Saeed's lawyer A K Dogar, said that the two First Information Reports registered against the JuD chief in Faisalabad last week were 'without lawful authority and of no legal effect'.
The petition also claimed that the Indian government has been "pressing" Pakistan to take action against Saeed even though there is "no charge" against him. It said two "fake" cases had been registered against Saeed on baseless allegations and police cannot book him constitutionally or legally under such charges.
Following the registration of the two FIRs, police placed Saeed under house arrest on Sunday. However, police officials and a JuD spokesman have said no formal written order has been issued for Saeed's detention.
Police in Faisalabad have accused Saeed of making speeches in which he incited people to wage jehad against infidels and sought funds for the outlawed JuD.