A Ganesh Nadar meets a most unusual politician.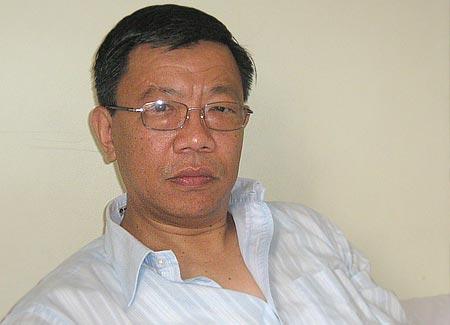 P
rem Das Rai
is a member of the Lok Sabha with degrees from both the Indian Institute of Technology and the Indian Institute of Management. The articulate Sikkim Democratic Front MP has a degree in chemical engineering from IIT-Kanpur and an MBA from the prestigious IIM-Ahmedabad.
Soon after graduating, he worked for Bank of America in Kolkata before going back to Sikkim to join the government. He served as deputy chairman of the state planning commission and headed various organisations until he entered politics.

He spoke to rediff.com in a modest room at Sikkim House in New Delhi.
What kind of reactions do you evoke in other MPs because of your IIT, IIM badge?

They treat me with a lot of respect. Many of them have told me that I speak well. There are not many IIT, IIM graduates in politics because the moment they graduate, they are sought out by the corporate world. They want to do other things or start their own businesses.

In the IITs and IIMs, you are not attuned to politics. How you go through a particular channel tunes you for your future, right? Essentially it is just that. I am one of those lucky ones who sought out politics as an eventual career option.

Is there a place for the highly qualified professional in politics?

I think so and there is a greater need for that now. I can assure you that if there were five of us in Parliament today with similar views we could make a lot more difference.

Don't you think the Northeast's representation in the Union ministry is very small, if you consider its large geographical area?

We have a Cabinet minister from Assam and two ministers of state from the region. It is not less, but the distribution could have been better. Both the MPs from Meghalaya are ministers. That's lopsided.

Why is there so little knowledge about the Northeast in the rest of India?

The Northeast is known as an insurgency prone area. The Naga issue, Bodo issue, ULFA issue, only these get media coverage.
The Northeast is the biodiversity saviour of the country. I had mentioned that in Parliament. Thirty to 40 per cent of the biodiversity of the country is housed in the Northeast.
It is the battery of India. Not only oil and gas but it has a hydroelectricity capacity of 70,000 MW. It has so much colour and diversity within itself. Those nuances have never been brought to the fore.

Do you think the lack of infrastructure is a reason for this lack of knowledge?

The government has always viewed the Northeast as a security issue. Now they have realised that it mustn't be only about security and it must get the full embracement of development.

Another aspect is that all the borders are closed. More than 4,000 kilometres of border area with Myanmar, Bangladesh and China is closed. There is no form of trade there.

Do you think the Northeast has been discriminated by the rest of the country?

I wouldn't say discrimination. I studied in Mussoorie, Kanpur and Ahmedabad. I was never made to feel that I am an outsider. In Parliament also I feel at home.

I have had the most wonderful school experience and college education.

The Northeast is said to have enough hydroelectric power for the entire country. Why has this not been developed?

It is a difficult proposition. You need the resources. There are land issues. There is a lot of geology involved. It has to be harmonious with nature. There are a host of issues.
There are a lot of people who are against dams. Not only large dams, there are people who will object to anything that you do.

It is a very complex process. We in Sikkim are facing that. We are seeing the problems and working on how we can tackle it.

The Government of India had never seen the potential earlier. Only in the last 10 years have they looked at it seriously. There is going to be a shortage of power and shortage of water. The Northeast is going to be the place to be in.

How would you tackle militancy in the Northeast?

I am from Sikkim, it's the most peaceful state. I don't have an answer. There is no easy answer. It is very complex. You must find where it comes from. The Government of India has tried almost everything.

Take Manipur, for instance. It needs a different treatment because it has a political dimension to it. It's not just a law and order problem. It's about a host of issues emanating from politics.
Manipur has people in the valley and people in the hills. People in the hills are sitting on 80 per cent of the land and they make just 20 per cent of the population. Can you imagine the imbalance? That itself is the fault line.
How do you solve that in a democratic way? In a democratic process?

The Nagas are indulging in violence and the government is countering it. To achieve peace this is not the way. So these are very complex problems. There are other issues like the Bodo problem.
All these issues come out of the feeling of marginalisation.

The Assamese have a different flavour to it. They have to be dealt with differently. If I had to do it? If I was given the task to do it? I would use a lot of social and political tools.

Naxalism is different from militancy. Even in Naxalism, the issues in one part of the country are not the same as the ones in a different part. I have heard it in Parliament -- 'This has worked in Andhra Pradesh and so it should be implemented in other states too.'

Mr P Chidambaram is a very senior person and also understands development. Perhaps he will look at the social processes. He is sinking his teeth into it. The steps he takes will be much better than what we have seen so far.

What is the Chinese threat on the ground?

In Sikkim there is no perceptible threat. We are on the Chinese border. There are occasional incursions. They come here. Our people go there. There is some bit of tension. That's a border issue.
India and China need to sort out the border issue. Today it's not about any country invading another country. Today it is about insurgency and counter insurgency.

You fight proxy wars within your country because it is fermented from somewhere else. The movement of information and money, all that effect is there. There is no threat of taking over the territory of another country. That's my personal view.

What are your plans for your constituency?

Education, power and water.
Photograph: A Ganesh Nadar