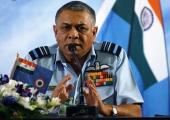 Air Chief Marshal P V Naik on Wednesday said the country's present fighter aircraft strength, which is one-third of China, was inadequate. "Our present aircraft strength is inadequate. We have one third of the Chinese numbers. And that is why we are going for more," Naik told reporters at the South Western Air Command headquarters in Gandhinagar.
He added, "The government is giving its full support, as far as the acquisition of these things is concerned, in terms of finance or otherwise. But everything takes time. So, whatever contracts have been signed or will be signed, we would get delivery after three years."
Fighter aircrafts are required for national security, at the borders and also to guard the entire nation, Naik said. When queried if the challenges faced by the country were being downplayed in view of recent reports of Chinese incursions, Naik said, "As far as the Air Force is concerned, there are no incursions anywhere (across the Indian border)."
"We are not downplaying the challenges before us. But there is a strategy to handle it. One can either deal with it sternly or play cool and continue to develop capabilities," Naik said.
When asked about deployment or arrangement along the Indo-China border, he said, "We have increased our capabilities on land as well as in air."
However, he declined to divulge more information. On security arrangements at various borders, the Air Chief Marshal said, "We are using advance technology in border areas like cameras, motion detectors and maintaining air surveillance. We also use satellite surveillance."
Naik also said the country is faced by many challenges which are increasing day-by-day. "So far, the effect of all these challenges on the Indian Air Force is that we have to be prepared for all kind of conflicts starting from the top –- from nuclear to the terrorist -- which is a lower spectrum conflict," he said.
"We have to acquire capabilities in order to meet the nations' aspirations," he added.
Naik said that all the challenges, be it geo-political or within the country, are equally important. "Depending on the priority, all these challenges are being handled by developing capabilities, not only of armed forces but also by looking into diplomatic and economic factors which form part of national security," he said.
Image: Air Chief Marshal P V Naik | Photograph: Reuters