Environment Minister Jairam Ramesh tells rediff.com's Suman Guha Mozumder about his discussions with his counterparts in New York.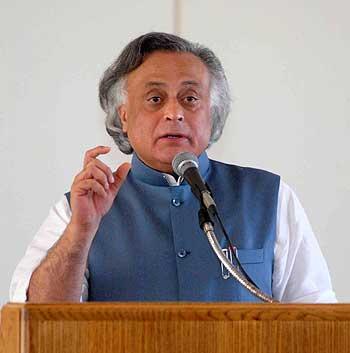 Minister for Environment and Forests Jairam Ramesh met his counterparts from 30 countries over the weekend to impress upon them the need for a 'greenland process', India's proposal to cope with greenhouse gas emissions.
The proposal is pending comprehensive agreement at the international climate conference scheduled later this year in Copenhagen.
Ramesh said his counterparts were impressed by India's proposal enunciated by him which they did not know of.
The two-day informal meeting convened by Denmark in New York came ahead of the special session climate change convened by United Nations Secretary General Ban Ki-moon.
"What I said was very well received. Most people said this was not something that they had known earlier. This was something that they widely welcomed given the importance that India has. I think it was a good opportunity to showcase what we are doing back home," Ramesh told rediff.com after returning from the meeting.
Ramesh said if the best solution is not possible at Copenhagen -- to cut emissions by 40 percent by developed countries by 2020 and with 1990 reference levels -- the second best option could be to pluck the "low-hanging fruits".
What he meant was that it would be better to achieve the goals on things on which there is a general consensus at present -- namely the role of forestry that is critical in any greenhouse gas mitigation strategy.
The third area of general consensus, he said, was technology-sharing related to climate change, adding that there was a large variety of international technology cooperation.
'These three elements are the building blocks for a bigger agreement at Copenhagen II, ahead of the Copenhagen summit later this year,' he told his counterparts.
"I think it was a good opportunity to highlight what we are doing. This is part of a public education campaign that we had not been able to articulate in a proper way so far -- what we have been doing and because of which India is painted somewhat unfairly and in a negative light," Ramesh said.
"I kept telling them that India is going to be a deal-maker and not a deal-breaker as has been perceived by some developed countries," he said.
Last week during a lecture hosted by Columbia University, Ramesh said India was concerned about climate change. Because, he said, India's culture and society are climate influenced, including the Bollywood film industry that 'needs rain while shooting.'
On a serious note, Ramesh said if one looks at the fact of the matter, the variation in Gross Domestic Product growth in the last 50 years, 40 to 42 percent of the annual variation in GDP growth has come from variation in rainfall alone.
'Rainfall continues to be the single most important driver of annual variation in GDP growth and this is even after accounting for structural transformation that has taken place in the Indian economy,' the minister added.
'So, we are conscious about the local impact of global warming whether it relates to frequency of extreme events like rainfall failure or excess rainfall whether it is increase in sea levels which affects the entire peninsular India and the livelihood of 15 million fisherman and their families, or the adverse behaviour on the Himalayas which adversely affects the water security of a billion people living on the Ganges basin,' he said.
He said India is a climate-dependent society and economy despite all its great successes.
'When we come to Copenhagen, our engagement with the world community will proceed from this realisation that we have to part of the solution, although we may not have been the creators of the problem.'
"A lack of agreement at Copenhagen may not be suicidal for the US," he said, "but for a country like India, it is absolutely critical to have an agreement at Copenhagen."