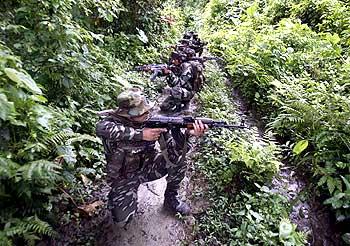 External Affairs Minister S M Krishna met his Sri Lankan counterpart Rohitha Bogollagama in New York and discussed the issue of the resettlement of over 280,000 internally displaced persons (IDPs) in the island nation.
The two leaders met on the sidelines of a Climate Change Summit convened at the United Nations. "The discussion covered the settlement of displaced persons primarily," Krishna said, adding, "They have told us that the process of de-mining is going on. Simultaneously the resettlement also is being done."
Krishna, however, noted that he had not discussed devolution of power at this meeting. "They are now preoccupied with the settlement issue," he said.
Colombo has come under strong international criticism for alleged human rights violations during its war against the Liberation Tigers of Tamil Eelam. Since May, more than 280,000 IDPs continue to live in camps, after the Sri Lankan army defeated the Tamil rebels in the northeastern part of the country after a two-decade long civil war.
The Lankan government has cited security concerns in the northern part of the country, and assured that people will be resettled after landmines have been cleared from the combat zones.
UN political chief B Lynn Pascoe recently said, "We are very concerned about the pace of progress in Sri Lanka."
New Delhi has also criticised Sri Lanka for not doing enough to resettle the IDPs despite the substantial financial assistance India has given as aid towards rehabilitation.
India has also called for greater devolution of political power to regional governments, which is also what the Lankan Tamils want.
Krishna also held bilateral talks with Egypt's foreign minister and met the leaders of the other G5 nations (Mexico, Brazil, South Africa and China) at the Mexican Mission.
Image: A scene from a refugee camp near Chettekulam, northern Sri Lanka | Photograph: Reuters
© Copyright 2023 PTI. All rights reserved. Republication or redistribution of PTI content, including by framing or similar means, is expressly prohibited without the prior written consent.