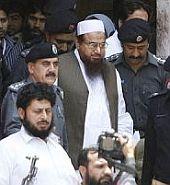 Even as the Pakistan government, under US pressure, claimed to have placed Jamaat-ud-Dawah chief and 26/11 mastermind Hafiz Saeed under house arrest, one of Pakistan most influential journalists has said it would take years for Islamabad to dismantle the Lashkar-e-Tayiba, and the Pakistani army is in no mood to do it.
Najam Sethi, editor-in-chief of Pakistan's Daily Times and Friday Times, in an interaction at the Woodrow Wilson International Centre for Scholars, said: "I have been to the Lashkar's headquarters and it is the most formidably scary sight -- I mean, it is a nightmare frankly."
"I do not want to tell you a long story," he said, "but I got into trouble with the Lashkar, and they basically said they were going to get us. So, we had to go and meet Hafiz Saeed to apologize."
Sethi recalled, "Neither the government of the day nor the ISI – nobody -- was prepared to negotiate on our behalf. They were not going to touch it. They said, you guys go and make your peace. The chief minister said, 'I am not in touch with them and the chief minister wanted to help me."
"So, we had to find ways and means of getting in touch with these guys and go and apologize. And, you know, that whole complex is built like the mosque in Medina (in Saudi Arabia) and the folk there are out of another world," he said.
Sethi, said, "If 5,000 of these folk (some have estimated the strength of the LeT upwards of 150,000) decide to come out tomorrow in defense, there would be no police -- nowhere in sight. They could take over the city."
Thus, in response to India's demands as well as that of the US in endorsing India's call in the wake of the LeT allegedly being responsible for the Mumbai attack that had been preceded by a number of terrorist attacks within India either directly or through proxies, Sethi said, "Lashkar has to be dealt with in terms of a long-term solution -- many steps --part disbanding them and re-orienting them, partly bribing them, giving them jobs, partly crushing them and selectively picking up their leaders."
He reiterated, "It is going to be a long, drawn-out process, dismantling the Lashkar. It is not going to happen overnight."
Thus, Sethi said with the Pakistani Army today stretched to its limits with deployments of the eastern border with India and the western border fighting the Taliban and helping the US in fighting the war on terror -- not to mention being bogged down in the Swat Valley -- the last thing it had in its mind was to close down and completely dismantle the LeT infrastructure on the urging of India and the US.
Earlier, the noted journalist who was recently awarded the 2009 Golden Pen of Freedom, speaking of Pakistan's current challenges, said that President Asif Zardari's first year in office had been a flop.

"Zardari has not done well in his first year. He had made a lot of mistakes, some of which are still clinging to him," he said.
Sethi said one of these mistakes was "riling the Pakistani army when Mumbai happened. Zardari was keen to make amends with India and went overboard in a sense as far as the Army was concerning in trying to bring peace. He said some things, which the army did not like."
"And, then he tried to, in a sense, get a grip on the ISI, and the army didn't like that either and he had to beat a retreat on all these fronts. So, his relationship with the army was a bit troubled from day one. And, then of course, having gotten rid of (former President, Pervez) Musharraf, he had to rebuild a relationship with General Kayani and that is still work in progress."
Sethi said, "The army has lot of question marks about Zardari's ability to run the government and also to deal with the United States. The Pakistani army thinks he is soft on the US and the Pakistani army would like to take a harder line vis-a-vis these negotiating positions on Afghanistan and the war on terror, and Zardari is more inclined to look at the money side of it."
"He wants to put money into the budget, he wants money from the United States, he wants to get the economy moving, but the army has other priorities."
Sethi said, however, "At the end of the day, if there is a replacement for Zardari, it will have to be Nawaz Sharif. There is no mood in the country for an army take-over or for the army to come back. That is not on at all."
"But Zardari is going to be able to survive this period, short of a war with India -- which could be very destabilizing for the entire region -- or an unexpected assassination. So, I don't foresee any mid-term change in Pakistan."