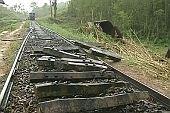 With one of the most dreaded militant groups of Assam -- the 'Black Widow', finally deciding to tread the path of peace, for the two ambitious national projects in Assam, 'East-West Corridor Project' and Lumding-Badarpur railway gauge conversion project, there appears some light at the end of the tunnel now.


The militant group, also known as the Dima Halam Daogah (Jewel faction), had for the last couple of years held almost every development project in the picturesque North Cachar Hills district of Assam at ransom.


Rampant extortions, abductions, killings by the militant outfit had made the atmosphere in the area unconducive for private construction companies, executing the two national projects, to carry on with their works. Both the projects have, thus, been lying idle for more than a year, as the companies had refused to work due to lack of security at various sites in the NC Hills district.
Non-completion of gauge conversion project not only held back development in the underdeveloped Barak Valley region, but in neighbouring states like Tripura and Mizoram as well. Though Agartala was brought under the railway map a year back, it is yet to get direct railway connectivity with other parts of the country due to non-completion of gauge conversion between Lumding and Badarpur in Assam.


The industry of Barak Valley (south Assam) and Tripura too suffered over the years due to heightened militancy in NC Hills.


Railway service between Lumding and Badarpur had to be suspended on many occasions due to attacks on railway staff and locomotive drivers by the militant group. The worst sufferer, besides passengers, was the industry as its supplyline was chocked. In April this year, production at Hindustan Paper Corporation's Cachar Paper Mill had come to a standstill as its supply of bamboo dried up due to suspension of train services on the Lumding-Badarpur route.

Smooth despatch of tea from tea gardens of Barak Valley too suffered on many occasions.


Also, heaving a sigh of relief are the few cement plants in NC Hills, which were at the receiving end of extortion of Black Widow.


The terror of the militant group, which broke away from its parent group Dima Halam Daogah in 2004 under Jewel Garlosa, after the later declared a ceasefire with the government, had almost transformed the picturesque NC Hills region of Assam into a deathbed over the years.


But, following an all-out offensive by the armed forces and Assam police against the militant outfit since P Chidambaram took over as the Union home minister, the militant outfit found itself cornered.


The arrest of its chief, Jewel Garlosa, in June left it headless. It later declared unilateral ceasefire.