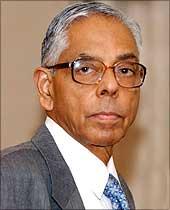 National Security Advisor M K Narayanan has said "dialogue is the way forward" with Pakistan and that the dossier against Lashkar-e-Tayiba founder Hafiz Sayeed is a "grade one" evidence.
Pakistan may not scare us, but some of its actions does, Narayanan said, adding, "Restricted dialogue mechanism will continue."
Asked about the alleged U-turn of Prime Minister Manmohan Singh since Sharm-al Sheikh on Pakistan, Narayanan said he was committed to the dialogue and also understands the limits of the dialogue at different stages or facets of the programme.
"I think what the Prime Minister said at Sharm-al Sheikh is the policy laid down. Dialogue is the way forward. We are not talking in terms of a conflict with Pakistan now," he said in an interview on CNN IBN.
On the issue of Hafiz Saeed, Narayanan said, "If you take the Hafiz Saeed dossier that have been provided...I think that we have marshalled almost what we say is a grade one evidence."
The NSA said the current issue is whether the dialogue should be essentially confined to discussing terrorism. "We are hoping as a civilised nation (Pakistan) with a civilian leadership, not very much in control, but hopefully anxious to do something, somewhere, sometime... The forces raised against us operating from Pakistan can be brought under..." he said
Narayanan said, "We need comfort on this issue. Apart from Mumbai, there are other issues and therefore we will expand the range or scope of the dialogue till there is a fair amount of comfort. That is more or less is the context in which the statements are being made whether by the Prime Minister or the leaders."
He said, primarily, the intelligence we have is that terrorist groups wish to strike the target which are bound to create widespread mayhem.
"At times, it is a religious place, sometimes it is a building or an institution that houses a large number of people of different kinds. But the basic point is that if you take in totality, the totality of what is taking place is to create as much destruction for the sake of destruction. I think terrorism has reached the notch which we generally have been talking in academic terms, but is now coming down into practical issues," he said.
© Copyright 2023 PTI. All rights reserved. Republication or redistribution of PTI content, including by framing or similar means, is expressly prohibited without the prior written consent.