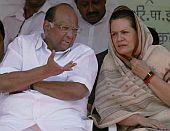 Assembly seats in Mumbai and Pune have emerged as the bone of contention for Congress and the Nationalist Congress Party who are engaged in a hard bargain for reaching a seat sharing pact for the Maharashtra assembly polls next month.

A meeting of leaders of the two parties witnessed claims and counter-claims for a fair share in the two urban regions where the number of assembly constituencies has increased after the delimitation exercise.
NCP and Congress leaders have worked out a formula for seat sharing for Pune while a couple of rounds of discussions would be required on the seats in Mumbai, NCP General Secretary Praful Patel said in New Delhi.
"Saturday's discussions took place on almost all the seats barring 2-3 seats on which more discussions will have to take place," Maharashtra Pradesh Congress Committee president Manikrao Thakre told media persons.
Asked whether disputes still remain on between the two parties on these seats, he said, "There is nothing like dispute. A final decision will be taken after understanding each other."
Thakre said the party high command will be apprised of Saturday's discussions after which an announcement would be made.
The Congress leader, however, confirmed that seat sharing talks are going on the formulae of 174 seats for Congress and 114 for NCP.
"We are discussing on the formula of 174-114," Thakre said when asked whether there was a consensus between the two parties over this seat-sharing formula.
On whether the announcement would be made on Saturday, Thakre said, "There is no hurry", adding it could be made either in Delhi or Mumbai.
To a question whether they are roping in Dalit Prakash Ambedkar, Thakre merely said: "We are trying to take along with us all secular parties."
Asked whether the two parties have reached the final agreement on seat sharing, Patel said, "Congress and NCP have nearly reached an agreement. There is no difference in NCP and Congress, and broadly the formula of the alliance has been worked out between the two parties for the whole except the seats of Mumbai and Pune."
Asked whether there are still some hitches on the number of seats to be contested by each party, Patel said, "There is no major issue either on the number of seats or the seat sharing formulae."
The NCP leader said that both parties will go for a common manifesto and joint campaign in the elections and that these things are likely to be finalised in three-four days.
At the same time, Patel said there are claims by both the parties on certain seats in Pune and Mumbai and discussions were on to arrive at a consensus.
"NCP has to fight on seven seats of Mumbai but it is yet to be finalised which will be those seats while in Pune, too it has be to be decided which four seats each both parties will contest," he said, but added, "We expect everything to be final by Saturday or Sunday morning."

He also said that the formulae for seat-sharing in Pune needs some fine tuning while another round of discussion could be required for the Mumbai seats.