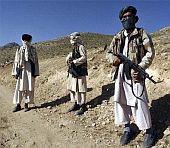 A report submitted to senior officials in Pakistan by a joint investigation team has allegedly claimed that the 23 arrested commanders of Tehrik-e-Taliban Pakistan have confessed involvement of secret departments of India, including RAW, and Afghanistan in supporting militants in Pakistan.
According to reports, the militant commanders, including Sim Khan, Mahmood Khan and Maulvi Umer, who were arrested during operation Rah-e-Rast, have confessed that they were provided financial aid, weapons and special training by secret agencies from India and Afghanistan to fight against the Pakistan Army.
The report stated that secret agencies from India were in contact with militants in Jalalabad, Kandahar and Mazar Sharif and the militants went to their collaborators via secret ways where they were invited to feasts and they were provided weapons and money earned by the narcotics trade, the Dawn reported on Saturday.
The report also revealed that some militants received special war training from Afghanistan