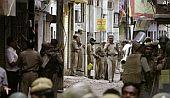 A petition was filed on Friday in the Supreme Court against the Delhi High Court's order giving a clean chit to the city police in the controversial Batla House encounter case in which two suspected terrorists and a police officer were killed.
The petition filed by an NGO 'Act Now For Harmony and Democracy' submitted that the high court has erred in accepting the findings of the National Human Rights Commission, which had refuted the allegation that it was a fake encounter.

It pleaded that the high court did not go into the merit of the case and only relied on the finding of the Commission's report on the ground that it is a statutory body whose report cannot be questioned.

The petitioner argued an independent judicial inquiry is required in the case as serious doubts were raised by different groups of civil society on the conduct of the police officials in the encounter.
It also contended that NHRC has failed to conduct a proper inquiry in the case as its officials did not visit the site of the encounter and only made a report by accepting the police version.
The high court had on August 26 refused to direct a judicial probe into the encounter by accepting the Commission's report, which gave clean chit to the police.

It rejected the NGO's contention that the NHRC has failed to conduct a proper investigation in reaching the conclusion that it was not a fake encounter.
The NHRC had on July 22 given a clean chit to the Delhi Police in the encounter case in which two suspected Indian Mujahideen terrorists and Inspector Mohan Chand Sharma, an encounter specialist, were killed on September 19 last year.
The NHRC, which had conducted an inquiry into the case on the direction of the Delhi high court, has in its report refuted the allegation that the encounter was fake and the police had fired on unarmed persons and inspector Sharma was killed as a result of rivalry within the police.
Challenging the findings of the Commission, the NGO, on whose plea NHRC was asked to conduct the probe, had contended that "the Commission has failed to do the basic things required in the investigation and the police version was not scrutinised."
The NHRC, in its 30-page report submitted in the high court on July 22, had said there was no case made out against the Delhi Police for violation of human rights.
"We are clearly of the opinion that having regard to the material placed before us, it cannot be said that there has been any violation of human rights by action of the police," the Commission had said.