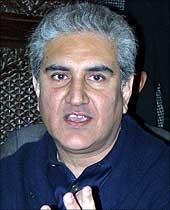 In contradiction to Pakistani President Asif Ali Zardari's interview to an English daily where he said he was ready to work with India in the 26/11 case, Foreign Minister Shah Mahmood Qureshi asserted that Pakistan will not buckle under pressure mounted on the Mumbai attacks issue.
In tough posturing ahead of Indo-Pak foreign ministers' meeting in New York, Quereshi said Pakistan would not accept any precondition set by India for resuming talks.
"India is mistaken if it thinks anything can be achieved by piling up pressure on Pakistan," Qureshi told reporters in Lahore ahead of his departure for the US, where he will meet his Indian counterpart S M Krishna on the sidelines of the UN General Assembly session.
While Pakistan has been insisting on early resumption of the dialogue process stalled since November last year, India has made it clear that this was not possible till Pakistan takes action against the perpetrators of the 26/11 attacks.
"We want a dialogue (with India) but we are not willing to accept any conditions... We want talks in an open and friendly atmosphere. They (India) are mistaken if they think they can achieve anything by putting pressure on Pakistan," Qureshi said.
India, Qureshi said, had been issuing statements and taking up issues like terrorism with the world community to "put Pakistan on the defensive".
Such moves, he claimed, were prompted by India's "internal political compulsions, but Pakistan will not be affected by them".
In Islamabad, foreign office spokesman Abdul Basit told reporters that the "anti-Pakistan propaganda" pursued by India cannot achieve anything.
Qureshi has already voiced skepticism, saying he was not expecting any "major breakthrough" during the upcoming meeting.
He said India's decision not to continue efforts to resolve issues like the Kashmir problem through the composite dialogue would have "consequences", but did not elaborate.
Image: Pakistan Foreign Minister Shah Mahmood Qureshi
© Copyright 2023 PTI. All rights reserved. Republication or redistribution of PTI content, including by framing or similar means, is expressly prohibited without the prior written consent.