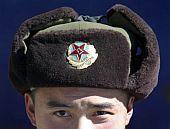 Villagers living along the India-China border in Arunachal Pradesh said on Wednesday that Chinese incursions were a result of lack of border demarcation.
Indian media had reported that two soldiers of the Indo-Tibetan Border Police were injured in firing from across the border on the Line of Actual Control in Arunachal Pradesh, part of which China claims as its territory.
India on Tuesday, however, denied that two of its border guards were injured in firing by Chinese forces.
"They (Chinese troops) come here and Indian government is helpless. We have protection from Indian government but since the areas are not demarcated it is difficult to make out," said Soya Ama, a resident of Changla Gaon village in Anjaw district of the state.
Apprehending more Chinese incursions, another villager appealed to Indian government to advance troops from their village to borders.
"We appeal to Indian government and army that they should advance towards border from our locality. Presently they are in our village and we face lot of problem because of that. We face lot of threat from China," said Anjita Kri, another resident.
China claims about 90,000 sq km of Arunachal Pradesh along their border as part of its territory.
India and China fought a short war in 1962 and, despite burgeoning trade in recent years, mistrust remains. Both sides jostle for resources and influence as they seek a global role.
This year, the two countries have faced off at multi-lateral forums, including Chinese objections to a $60 million Asian Development Bank loan for a project in Arunachal Pradesh.
Indian media have repeatedly reported 'incursions' by Chinese soldiers patrolling the 3,500-km (2,200-mile) border, disputed at various stretches.
In response, India has begun modernising its border roads and moved a squadron of strike aircraft close to the China border.