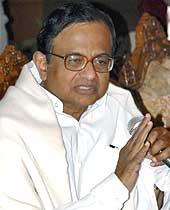 Home Minister P Chidambaram wanted speedy completion of an ambitious project to increase coordination among various state police forces to counter terror challenges. Once the Crime and Criminal Tracking Network and Systems (CCTNS) is complete, it will mark a quantum jump in country's ability to counter various challenges to internal security, particularly terror threats, he said.

Chidambaram was addressing the concluding session of a three-day annual conference here of Directors General and Inspectors General of Police organised by the Intelligence Bureau. A sum of Rs 89 crore has been allotted to the states under the CCTNS for networking of all crime-related data amongst all police stations. In his inaugural address on Monday, the Home Minister had suggested that the conference must mark the beginning of a process of reinventing the security system in the country. "...It is the neglect of tried and tested methods that has led us to a situation where we seemed unequal to challenges that face the internal security of the country," he had observed.

The National Crime Records Bureau, which has been working on the project, gave a presentation on the need to reinvent the security system by learning from past mistakes and adopting new technology. Key objectives of the CCTNS project include creating platforms at State and Central levels for sharing crime and criminal information and databases across states and across the country.

This would enable easy sharing of real-time information across police stations and districts at the state level and across states at the national level, thereby resulting in improved investigation and crime prevention and better tracking of criminals, suspects, accused and repeat offenders. It will also help in creating a platform for sharing intelligence across the states, across the country and across other state-level and central agencies, improved service delivery to the public, access to police services in a citizen-friendly manner and provide alternative modes of service delivery such as internet.

The CCTNS project covers all 35 states and union territories. Within states, more than 14,000 police stations and 6,000 higher offices including district headquarters and range offices are covered. The system will provide enhanced tools for investigation, crime prevention, law and order maintenance and other functions like traffic management, emergency response.