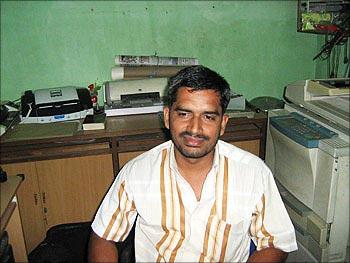 A young Muslim tells A Ganesh Nadar why he fasts during Ramzan.
It is 3.45 am in the morning. The alarm goes off loudly, disturbing the tranquillity of the village. Kader Mohideen stirs, groans, and then wakes up. He is not a morning person. He usually gets up at 9 am. The reason he always gives for waking up late is, "I was working late."
Today he wakes up at what is for him an unearthly hour, just the way he has been doing for the past fortnight. For this is the holy month of Ramzan when Muslims fast all over the world.
After he brushes his teeth and washes his face, he has a liquid which he calls Sakar. He then sits down to eat a small bowl of curd rice. "This is Barakat," he says. "It is a small meal which will stretch and be enough for the whole day."
Kader then says the first prayer of the fasting ritual, the Thagajath; he follows this up with another prayer.
At dawn he recites another prayer, the Fajur. In between he reads the Quran. "We are not supposed to sleep during the fasting period," he adds, "but when I am tired I take a nap from 6 am to 7.30 am."
Kader is 30 years old, a BSc, with mathematics as his major. "I hated maths so I learnt computers, both software and hardware," he said. Today he runs a computer centre for school and college students in southern Tamil Nadu. With his knowledge of hardware he fixes errant computers and resolves related problems in a vast area comprising more than a hundred villages.
Whether it is the State Bank of India in Kurumbur or the Indian Overseas Bank in Alwarthirunagari 12 kms away or a professor's home in Tiruchendur 15 kms away it is Kader people call when their computers malfunction.
At 8.30 am he opens his computer centre for the first students of the day. At 9 am, there is a call from Thiruchendur; he has to service a computer there. It is already a hot morning. I ask Kader if he is thirsty when he returns on his motorcycle. "Not at all," he smiles. "The first three days around 5 pm you feel very thirsty; after that I get used to it."
Five students await him when he returns. He gives them quick instructions and says, "I have to go to Alwarthirunagari. The bank will give me a cheque for Rs 2,500. If I don't go today, it will be delayed by another week."
After he recites the second prayer of the day, the Lukher at 12.45 pm, he goes to collect his cheque. He returns in an hour, looking very tired but cheerful.
"I sleep for another hour in the afternoon if I am very tired, but today there is lots of work."
At 4 pm is the next prayer, the Ashar.
At 6.30 pm he goes to the mosque to break his fast. There, the devout are given something to drink and a couple of dates. The Mahrib prayer is then recited in the mosque.
After he returns home, "sometimes I have dosas, other times I have puri, a little rice too. It is difficult to eat too much. Some people have lots of meat and chicken. I don't."
Between 8 pm and 8.30 pm he recites the Isha prayer; at 9.30 pm the Tharaveeh prayer. This is followed by additional prayers if he feels like it. He goes to bed an hour before midnight.
Kader has been observing the Ramzan fast for nine years now. "I do it because it is written in the Quran. I am paying for my life after death."
After the completion of the fasting period and before the Id-ul-fitar prayers, Kader gives 2.5 percent of his assets to charity. "We call it Zakat, we also give 3 kilograms of wheat to a needy person."
When he is fasting, he says he realises how a poor man feels when he doesn't have enough to eat. It has increased his devotion and faith in God, he points out.
"The Zakat has improved my life," he says. "It is an assurance given to me by God that the rest of my property will be safe and prosper because I gave a part of it in charity."
He does not ask for anything when he prays on the days he fasts. "Every time we pray when we want something, so I don't ask for anything during the fasting period."
Kader will fast this entire month. None of his activities suffer because he fasts. He carries on as usual; maybe he is more tired than he admits, but he is happy doing what he does.
When he fasts, Kader carries forward the faith of his forefathers. His knowledge of computers has not dimmed his belief in the Quran. In that there is a lesson for this materialistic world.