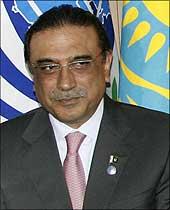 Pakistan President Asif Ali Zardari does not believe that  India's demand to take action against Jamaat-ud-Dawa chief Hafiz Mohammad Saeed, the mastermind of the terror attacks on Mumbai, is a 'major hurdle' and was hopeful that relations would be normalised soon between the two neighbours.
"I don't think the issue of Hafiz Saeed is a major hurdle in the normalisation of our relations. I am hopeful that relations between the two countries will be restored very soon," Zardari said during an Iftaar party at the presidency on Monday evening.
Zardari's comments came ahead of the meetings of foreign ministers and foreign secretaries of the two countries on the sidelines of United Nations General Assembly session in New York.
India has accused Pakistan of not taking action to prosecute the perpetrators of the terror attack.
Zardari said Pakistan is committed to fighting terrorism and no one should have any doubts about this. "My government's biggest achievement is flushing out extremists from the Malakand division and other areas and this move has the full backing of the people of Pakistan and all political forces," he claimed.
Attorney General Latif Khosa, Pakistan's senior-most legal official, earlier said that the evidence provided by India is 'not enough' to prosecute Saeed.
"How can we prosecute him (Saeed) in the court without evidence?" Khosa argued.
In the past few days, Foreign Minister Shah Mahmood Qureshi has reiterated that the Mumbai attacks were an 'abominable crime', but the two countries need to move forward instead of remaining preoccupied with the incident.
"Pakistan has already expressed its sincere desire for dialogue and has no problem in resuming talks," Qureshi said.
He is expected to meet his Indian counterpart S M Krishna on the sidelines of the UN General Assembly in New York later this month. He has said he does not attach 'high hopes' to the meeting but is hopeful that it will lead to the resumption of the composite dialogue, which has been stalled since the terror attack.
Home Minister P Chidambaram recently raised the Mumbai terror attack issue during his four-day visit to the United States. American officials called on Pakistan to continue its investigation and bring the perpetrators of the attacks to justice.
Five Lashker-e-Tayiba operatives, including operations commander Zakiur Rehman Lakhvi, and two other suspects arrested by Pakistani authorities, are currently facing trial in an anti-terror court for alleged involvement in facilitating the Mumbai attacks.