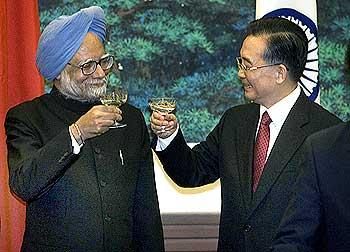 This is one refrain which may sound a bit jarring in the backdrop of recent reports about incursions by China into Indian territory. The newly-appointed Consul General of China in Mumbai Wang Donghua on Tuesday said, "India and China are not just neighbours, but are brothers too".
"Both the countries are emerging superpowers. Peace and development in the region will benefit them and the world," he said during a meeting with Maharashtra Governor S C Jamir at Raj Bhavan in south Mumbai.
"We have lots of common interests, rather than differences. All existing disputes between China and India, including the border dispute, can be resolved by peaceful negotiations," a Raj Bhavan official quoted the Chinese diplomat as saying.
Welcoming the consul general, Jamir said the future of the world depends to a large extent on how China and India build cooperation between them.
"Minor incidents and setbacks should not be allowed to disturb peace and good relations between the two nations. Both India and China have inner strength that enabled them to withstand the economic recession," the governor said.
Image: A file photograph of Prime Minister Manmohan Singh with Chinese Premier Wen Jiabao | Photograph: Ng Han Guan/Reuters
© Copyright 2023 PTI. All rights reserved. Republication or redistribution of PTI content, including by framing or similar means, is expressly prohibited without the prior written consent.