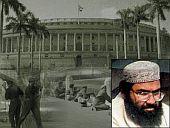 Jaish-e-Mohammad, the banned terrorist outfit that was involved in the attack on the Indian Parliament and the beheading of American journalist Daniel Pearl, is setting up a huge new base in Pakistan's Punjab province.
JeM, which counts Atlantic Airline bombing plotter and Al-Qaeda suspect Rashid Rauf as a member, has occupied a 4.5 acre-land outside the populated town of Bahawalpur to train jihadists in warfare, The Telegraph reports.
'It's big enough for training purposes. On the inside walls, there are painted jihadist inscriptions, including a warning to Hindus and Jews, with a picture of Delhi's historic Red Fort, suggesting they will conquer the city,' a Pakistani security officer said.
It was in Bahawalpur that Rauf was arrested in 2006, before his mysterious and still unexplained escape from custody.
As the world attention has been focused on the Taliban menace in the northwestern Pakistan, the mushrooming terror camps of Jaish and other similar jihadist groups in southern Punjab is being overlooked by the Pakistan government, the report says.
The terrorist group was allegedly formed with help from Pakistan's ISI military spy agency as a weapon to be used against India.
Jaish has its headquarters in Bahawalpur and it openly runs a imposing madrassa in the centre of town, called Usman-o-Ali, where it teaches its extremist interpretation of Islam to hundreds of children every year, the report added.
A man at the site, who gave his name as Abdul Jabbar, who wore a visible ammunition vest under his shirt, prevented The Sunday Telegraph to enter, and suggested it was time for the newspaper to leave.
'We are not hiding anything. Nothing happens here. We have just kept some cattle for our milk,' said Jabbar, who sported the long hair that is typical for Pakistani and Afghan Taliban.
However, Ayesha Siddiqa, an analyst who has studied the area, revealed: 'These guys (Punjabi Taliban) aren't connected with a war, they don't have any ethnic affiliation with Afghanistan. These guys are purely ideologically motivated. That makes it much more difficult to crack them during investigation or to break their will to fight.'