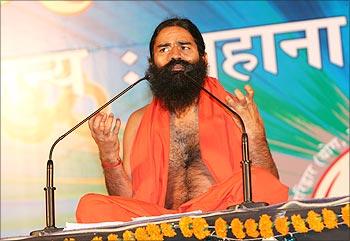 Austerity may be the buzzword among politicians now, but for Baba Ramdev it is a way of life. 
In an interview to Sheela Bhatt, the yoga guru said, "Austerity should be a way of life. It is possible to do away with luxuries if you understand that public money is not for oneself, but for the poor."
He said people who are sensitive towards the poor can lead an austere life. However, he added, "I don't have an issue with the rich or the politicians if they use their own money to lead a munificent life."

Asked in an era where babas and sadhus are not leading an austere life how difficult it could be for the people in a material world to live a simple life, Baba Ramdev said in his characteristic style, "Ask me straight questions. I don't speak for all saints. Do you have anything to say against me?"

When rediff.com asked him, "You are a saint, but do you really live an austere life?" Baba Ramdev, who was conducting a yoga camp in Haridwar being attended by thousands of his followers from West Bengal, said, "I do lead a simple life. I travel only by Ambassador car or Skoda, I drink two glasses of milk a day and eat two bowls of vegetables. I eat what any poor man in India does. I do use an aircraft to go abroad because I have to. I am not looking for luxuries and I enjoy the simple life. My chappals are made of wood (as traditionally worn by sanyasis) for the last five years. My needs are Spartan in nature."

For all that, Baba Ramdev's trust has breathtaking assets in and around Haridwar.

When asked about the flow of money into his ashram, Baba Ramdev said , "You can ask me straight about the money part.  Am I a thief or pickpocket (main koi chor-uchchka hoon)? People send me money because they trust me. They know I don't have any use for it. What we get, we use it for the people."
Asked if it was all 'white money', Baba Ramdev, without getting disturbed, said, "Let me tell you, I have built assets worth Rs 750 crore and it will soon become Rs 1100 crore. But, this is all for the people. I don't use black money. I only have accounted money. Anybody can challenge me."

Baba Ramdev runs yoga institutes, an ayurvedic pharmaceutical business, diagnosis centres and also a huge housing complex for people who come to attend his yoga camps. Now, he is building a huge complex to start an ayurvedic university.

Baba Ramdev said, "My lifetime's dream is to weed out corruption in India. People should return to value-based careers and a life of austerity."


"I strongly recommended to Prime Minister Manmohan Singh to set up fast-track courts to remove corruption in politics.  Corruption cases should be heard and judgment should come in three months' time. If any politician or public servant is found guilty, he should be hanged! We should change the law to award capital punishment to the corrupt."
Photograph: Sanjay Sawant